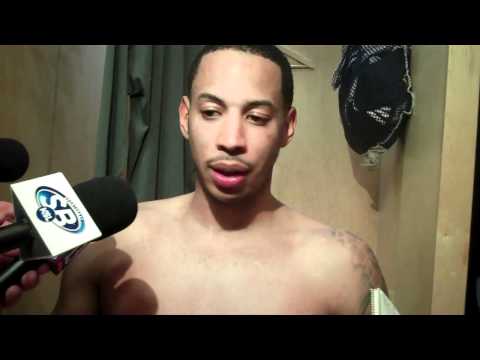 View 42 Items
Brandon Brown, Deseret News

The Utah Jazz, one season removed from losing a Hall-of-Fame coach and an All-NBA point guard, are heading to the Playoffs. In a game of immense proportions, the Jazz defeated the Phoenix Suns 100-88, clinching a postseason berth.
A team that most prognosticators predicted would finish near or at the bottom of the Western Conference has easily exceeded expectations. Behind a unique core of hungry veterans and talented youngsters, the Utah Jazz are one of the NBA's best stories this lockout-shortened season.
Not to be denied: It is well-documented that Al Jefferson has not smelled the playoffs since his rookie campaign with the Boston Celtics. He walked the walk Tuesday night, making three straight baskets in the clutch to seal the game. He simply would not be denied. With 18 points, 16 rebounds and four assists, the Jazz center has lead his team past the regular season.
Paul Millsap and Devin Harris, both veterans with deep playoff runs, were also eager to push Utah to the postseason. Their efforts against the Suns was evidence to back this up, as has been their play of late. Millsap was enormous, scoring 26 points to go with 15 boards, four assists and three steals. He was especially effective in the first half, setting the tone that propelled the Jazz to a 49-42 halftime lead.
Harris, averaging 18.0 points and 5.8 assists in April, had 14 points and played solid defense on the great Steve Nash. He quarterbacked the fourth quarter run quite well.
Denied: The Phoenix Suns got used to seeing the ball get slapped back in their faces early on. Led by Derrick Favors' dominant defense, one of the league's top shot-blocking teams did just that Tuesday. Favors and Jefferson gave Suns center Marcin Gortat nightmares and helped control the Phoenix interior attack. Favors had five shot blocks, while Jefferson chipped in two.
Undeniably talented: The much-touted core of Utah's youngsters were integral in the playoffs-clinching win. In quiet fashion, sophomore guard Gordon Hayward used his exceptional passing skills to help jumpstart a sometimes sputtering offense. He finished with eight assists, as well as 11 points and a pair of steals. He also recorded no turnovers.
As he continues to garner more playing time, Favors' impact continues to grow. He battled Phoenix's Robin Lopez well, moved smoothly on both ends of the court and produced another double-double with 13 points and 11 rebounds.
Alec Burks scored a very important five points right after Phoenix had retaken the lead. While he had problems defensively, he added eight energetic points.
Surprising statistics:
Nash had 13 points and 11 assists, but had the worst +/- mark of any player who saw action. He was -13.

Utah had 23 assists with just 13 turnovers, an impressive team ratio of 1.77 assists-to-turnovers.
A prolific perimeter team, Phoenix connected on just 5 of 23 shots from 3-point territory.
David Smith provides instant analysis for Deseret News' Utah Jazz coverage. He works for LDS Philanthropies and also blogs for the Utah Jazz 360 website. He can be reached at [email protected] or on Twitter at davidjsmith1232.