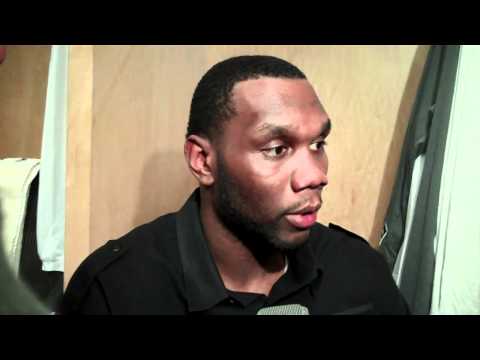 View 73 Items
Brandon Brown, Deseret News

In what has become seemingly routine, the Utah Jazz found themselves in an overtime period again Saturday. Thankfully, there was just one overtime and more importantly, they emerged with an enormous win over the Orlando Magic, 117-107.
In a game of runs, the Jazz did enough to escape with a victory that puts the Playoffs that much closer.
Super starters: Once again, the roll call of Jazz heroes was lengthy. A trio of veterans — Al Jefferson, Devin Harris and Paul Millsap — are giving it their all to make the postseason. And it is showing.
Jefferson made clutch shot after clutch shot, including his patented jump hook that sent the game into an extra session. The man in the middle had 21 points, 10 rebounds and three blocked shots. It was his post-up plays that really opened things up for his teammates in the overtime.
Harris has amped up his game the past month, as evidenced by yet another big effort Saturday. His shot block of Jameer Nelson's 3-point attempt at the end of regulation was one of the plays of the year. When the horn sounded, Harris' 21-point, seven assist performance propelled the win.
Millsap just wants to win. He will do whatever he can to help Utah win, including battling at the small forward position. He did his best to help guard the barrage of Orlando threes. His final numbers: 18 points, nine rebounds and four steals
Remarkable reserves: Responding to a very lackluster start to the game, Utah head coach Tyrone Corbin turned to his bench. And did they ever respond. The Jazz reserves out-reserved their Orlando counterparts 39-10 and made integral plays that contributed mightily to the win.
While he was not part of the final five players for Utah, Jamaal Tinsley almost singlehandedly brought the Jazz back from a 14-point first half deficit. With his precision passing, he set up his teammates for easy shots and moved momentum into the home team's favor. He finished with nine assists, eight coming in the first 24 minutes. Tinsley also had seven points and just one turnover.
Derrick Favors continues his stellar play off the pine, notching his sixth double-double in April. In 36 minutes, Favors tallied 16 points on 8-11 shooting, several being emphatic dunks. He patrolled the paint, snatching 11 rebounds and made some terrific defensive stops.
Enes Kanter had his second consecutive strong outing, making 4-5 field goals on his way to nine points. In the fourth quarter, he scored five straight points, with two baskets coming via impressive, interior moves.
And last but not least, Alec Burks chipped in a steady seven points and three rebounds.
Odds n' Ends:
The Orlando Magic front office has constantly tried to surround All-NBA center Dwight Howard with 3-point shooters. Sans their star big man, the Magic still were prolific from downtown, connecting on 15 of 38, with five apiece coming off the hands of Jason Richardson and Ryan Anderson.
Every reserve had a positive +/- stat.
Gordon Hayward made a big trey in overtime, but had an uncharacteristic six turnovers.
David Smith provides instant analysis for Deseret News' Utah Jazz coverage. He works for LDS Philanthropies and also blogs for the Utah Jazz 360 website. He can be reached at [email protected] or on Twitter at davidjsmith1232.