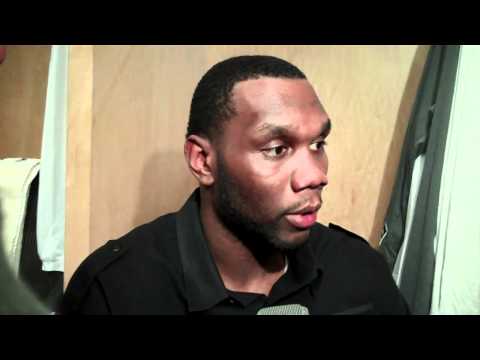 View 73 Items
Brandon Brown, Deseret News

They were hitting some good shots in the first half, really the whole game. But we knew if we kept playing defense and kept putting a hand in their face, I just didn't believe they were going to keep making those shots all night.

—Jazz center Al Jefferson
SALT LAKE CITY — Utah Jazz fans might want to clear their schedules for Tuesday night.
Thanks to yet another wild, entertaining and gut-checking overtime victory — 117-107 over Orlando late Saturday — the Jazz suddenly have a double date with both destiny and the Phoenix Suns that night.
"That's going to be a big game," Jazz forward Derrick Favors said. "We need to come out there with focus and energy and try to win that game."
Added Jazz center Al Jefferson: "We close, we close. So you know we got to go and take it."
Win it, and they're in the playoffs.
Lose it, and they still have a shot, but it's a longer one.
Speaking of long shots, Orlando brought its version of Jimmermania to town for a crazy late show Saturday.
As has been said by coaches one or two million times, sometimes you live by the three and sometimes you die by the three.
Sometimes, Devin Harris helps you survive by both swatting away and draining threes and sometimes your playoff hopes thrive because of the play of the Big 3.
Or something like that.
For much of Saturday, it looked like the Jazz might die on the 3-point line.
The Dwight Howard-less Magic hit 15 of 38 3-pointers (39.5 percent), and led most of the game and by as many as 14 points thanks to that long-range display.
"They were hitting some good shots in the first half, really the whole game," Jefferson said. "But we knew if we kept playing defense and kept putting a hand in their face, I just didn't believe they were going to keep making those shots all night."
Eventually, it was back-to-back 3-pointers by the Jazz's Gordon Hayward and Harris that helped Utah survive this big scare and pick up the big win.
Coincidentally, it was a big play in 3-point territory that helped the Jazz force an overtime session.
Jefferson tied the game in regulation with a one-handed shot with 21.7 seconds remaining, giving Orlando one last shot to pull a victory out of its hat in a playoff-like environment.
Harris had other things in mind.
The Jazz's 6-3 guard — with local shot-blocking legend Mark Eaton in the building, no less — swatted away 6-footer Jameer Nelson's game-winning 3-point attempt in the last second to force overtime.
Utah, which has played seven overtime games this season, then dominated Orlando in the extra session.
"He waited patiently and (had) perfect timing on the block. It was a big play," Jazz coach Tyrone Corbin said of Harris' timely rejection. "Jameer can make those shots. I thought he did a great job of being up on him and blocking the shot."
Harris and Jefferson both finished with 21 points to lead the Jazz, who improved to 34-30.
Paul Millsap added 18 points and Derrick Favors contributed a double-double of 16 points and 11 rebounds, with those two pairing up with Jefferson to give Utah a big boost by the Big 3 yet again.
"(Millsap) did what he had to do and Al was finishing around the rim," Favors said, "and I came in with the defensive energy and we just played good."
In a sense, the Jazz didn't technically have to win this game in order to keep their playoff hopes alive.
Because of Phoenix's home loss to Denver, Utah came into Saturday's game needing to win two of its final three games — one against the 33-31 Suns, who have the tiebreaker, and one against either the Magic or Portland.
But the gutsy victory — Utah twice overcame a double-digit lead — puts Utah in the playoff driver's seat.
Despite not having Howard, the Magic had plenty of offensive firepower. Nelson led three Orlando players with 20-plus points with 23 and 11 assists. He went 3-for-8 from the 3-point line.
Jason Richardson and Ryan Anderson each had 21 points with five treys apiece.
But Utah's 53.4 percent shooting and comeback victory left Orlando coach Stan Van Gundy — whom Howard reportedly wants to get fired — feeling more than discouraged.
"We just cannot guard. We cannot," Van Gundy said. "I don't think it is that our guys are not trying, I don't know what it is, but we cannot guard anyone."
The Jazz definitely deserve some of the credit on this night.
"They really gutted it out again tonight. They laid everything they had on the line," Corbin said. "Even when we got down, nobody was discouraged. They continued to encourage each other and just pushed their way through it."
GAME NOTES: Hall of Fame coach Jerry Sloan attended Saturday's game — the first time he's watched a Jazz game in person since resigning 14 months ago. ... Josh Howard and Raja Bell haven't gone through contact drills or play yet, but they both continue to work their ways back from their knee issues. Howard has targeted Tuesday's game against Phoenix as a return, and Corbin said the medical staff will evaluate him soon to see if that is possible.. ... Corbin was asked during a pregame interview if he could imagine hitting 112 free throws in a row like Blake Ahearn did to set a D-League record this season. The former 16-year-player's response: "I imagine it. I just couldn't do it."
TWITTER: DJJazzyJody