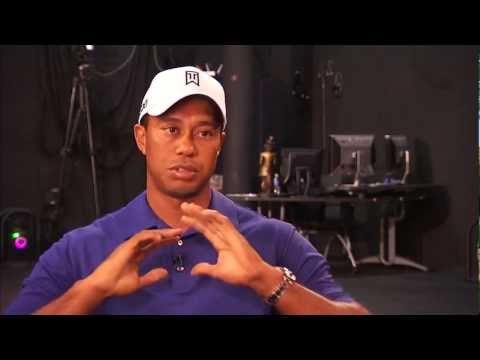 For most, golf video games are about as cool as, well, golf.
But with the integration of Microsoft's Kinect technology, "Tiger Woods PGA Tour 13" (EA Sports, for Xbox 360, $59.99) lets the whole family get involved, no matter your virtual handicap.
The more, the merrier — a concept that is well understood by Electronic Arts Inc., makers of the world's best-selling golf video game franchise. Traditionally, players had to endure a steep learning curve in order experience some level of satisfaction. Teaching a friend to play was frustrating for both parties.
This time around with Kinect, getting to a state of competitiveness is fast and a whole lot of fun.
Kinect forces users to ditch the controller and get off the couch. If you can imitate a golf swing, you can play this game. Kinect also processes voice commands, such as, "Aim shot." Then by holding an outstretched fist, you can drag your ball wherever you like and place it by simply opening your hand.
It may take a minute to adjust to gameplay with the Kinect, but it's well worth it. The combination of both body and voice controls amount to a unique gaming experience that's unrivaled by any other gaming platform. Seriously.
Plus, if you're looking for a friendly introduction into sports video games or even if you update every year, this installment is well worth your investment. The graphics and camera angles mimic broadcast more than ever. Legendary broadcaster Jim Nantz narrates your rise to golf fame (and isn't annoying about it). The new "Tiger's Legacy Challenge" is a clever way to help polish your skills, coupled with some history of the polarizing golfer's career. There are plenty of popular golfers, courses and downloadable content, and the "Online Country Clubs" addition lets you and your friends team up and battle other clubs.
Bottom line: It feels like you're buying plenty of "new" instead of more the "same old, same old."
Honestly, it was tough to find something unlikable about this game. You could get nit picky and complain about the lack of variety with the virtual patrons, or groan about the touchiness of the new putting mechanics. But if these things bother you, then you probably don't like any game. I've yet to play one that's perfect.
Finally, and perhaps most importantly, grandma won't be offended by anything in this game. With isolated media consumption on the rise, "Tiger Woods PGA Tour 13" gives the family a good reason to share one screen, together.
Video game review: Tiger Woods PGA Tour 13
See Tiger Woods behind the scenes playing Tiger Woods PGA Tour 13 on Kinect for Xbox 360 for the first time. Credit: EASPORTS
Twitter: @KyleAugust, [email protected]