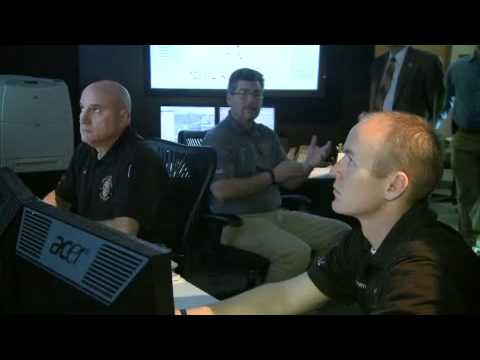 ulctTube
Agencies from all levels of government are checking out Ogden's new "Real-Time Crime Center," a law-enforcement system that uses live cameras on city property and Internet connections to monitor activity throughout the city. Police officers keep watch on high-crime areas, and can track and map patterns of crime that occur.
Ogden Police can also track the license plates of suspicious vehicles with tiny cameras placed inside the light bar on certain patrol cars that can read thousands of plates every minute. This information can be compared to a grid overlay highlighting the sites of various crimes and determine where photographed cars were in relation to those crimes. Ogden officers can even utilize social media for fighting crime by being able to see all tweets originating from within 15 miles of any given point worldwide.
Especially impressive is the price tag on the crime center. Innovative minds in Ogden utilized spare equipment available throughout the office, observers report, and combined it with resources available for free online in order to keep the costs of this crime center low.
Police Use Live Cameras to Track Crime: A Look Inside Ogden's "Real Time Crime Lab"
ULCT is a nonpartisan, inter-local, government cooperative, working to strengthen the quality of municipal government and administration. The league serves as a voice for Utah's 245 cities and towns at the county, state and federal level.