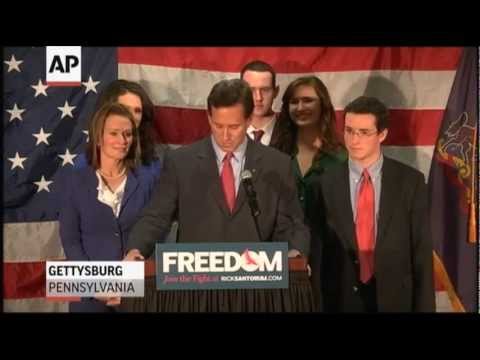 View 6 Items
Associated Press

» View our political blog, with live updates of the presidential race.
Top List: 20 possible VP picks for Mitt Romney
Rick Santorum's decision to withdraw from the GOP nomination fight comes as Mitt Romney was preparing to ramp up pressure in Santorum's home state.
Romney had settled on the Pennsylvania primary two weeks from today as his best chance to force Santorum out for good by embarrassing him in his backyard, and polls showed the two in a close scrap there.
Santorum's preemptive withdrawal reflects the success of that pressure, along with the mathematical improbability of his quest to deny Romney the nomination.
Santorum had been visibly tired in recent weeks, had taken time off to regain his energy, and after the Wisconsin primary had stumbled in his televised speech when he sought to compare his current question to Ronald Reagan's 1976 battle with Gerald Ford, seemingly realizing part way through that he was laying out a model for GOP disaster in November.
Romney had pulled an ad he planned to use to attack Santorum ahead of the Pennsylvania primary when word came that Santorum's daughter was hospitalized Friday; she was released from the hospital Monday night. The ad was described by CNN as "sharply negative."
Romney campaign spokeswoman Andrea Saul said then that the decision to yank the commercial was made "out of deference to Sen. Santorum's decision to suspend his campaign for personal family reasons."
Saul spoke was three days early. By Saturday, others were speculating that Santorum would bow out because of his Pennsylvania problem.
Santorum had led Romney in Pennsylvania by 14 points in the polls, but that lead had dropped to four points in recent polls. Some experts believed Romney could close that gap by following the blueprint, including major media buys, he used to win in Ohio and Michigan.
He lost badly there in his Senate re-election campaign in 2006. Winner Robert Casey Sr. earned 59 percent of the vote to Santorum's 41, the worst defeat for an incumbent senator since 1980. A loss to Romney in his home primary on April 24 could have damaged his future as a viable national candidate.
Santorum's reference to the 1976 race intimated a belief that Romney would lose like Ford did then and that Santorum could emerge to win like Reagan did in 1980. That model was taken up by conservative Weekly Standard editor Bill Kristol a few days ago, who argued that the party would be better off essentially throwing 2012 and focusing four years down the road.
In any case, it is now clear that Santorum will not carry the battle to the convention, thus removing one key element of the 1976 model. Whether Romney has what it takes to rally a divided party that is now his for the next eight months remains to be seen.
Eric Schulzke writes on national politics for the Deseret News. He can be contacted at [email protected].