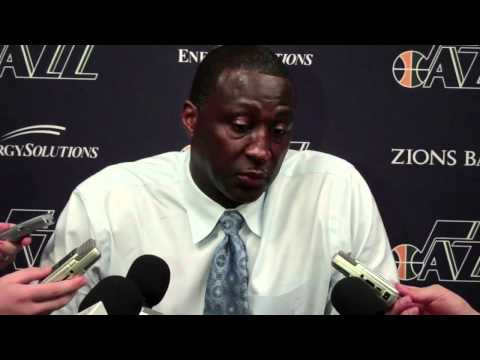 View 25 Items
Brandon Brown, Deseret News

In the second night of the Utah Jazz-San Antonio Spurs back-to-back series, two different teams took the court. The Spurs chose to rest All-Stars Tim Duncan, Tony Parker, and Manu Ginobili. And the Jazz chose to show up, winning 91-84 in a hard-fought game.
With Utah Jazz legendary point guard John Stockton watching along with Greg Ostertag, Tyrone Corbin's team dug deep and found enough to win a crucial game that keeps their postseason aspirations alive.
Furious fourth: Utah's postgame comments intimated that the team felt disrespected by the Spurs decision to leave their terrific triumvirate back in the Lone Star State. For most of the game, it did not seem like that, as San Antonio really controlled the pace of the first three quarters.
But the tides turned for the Utah Jazz, thanks to hustle, heart, and hot shooting. With a little over eight minutes left in the game, the Spurs held a daunting 75-67 lead. The Jazz looked lethargic and listless, managing a measly three points the first four minutes. Then things changed, and they changed dramatically.
From that point on, Utah outscored San Antonio 24-9, led by Devin Harris and Paul Millsap. Harris continued his torrid play by scoring 12 points, including a pair of huge three-pointers. Millsap tallied eight during the same span, including an emphatic put-back dunk with 43 seconds left.
The Big Three rest: As he is apt to do at times, San Antonio head coach Gregg Popovich left his All-Star trio of Tim Duncan, Tony Parker, and sixth man extraordinaire Manu Ginobili at home. Missing from the Spurs line-up was 46.8 points, 15.3 rebounds, and 14.5 assists. More importantly, absent were their leadership, poise, and fourth quarter excellence.
Defensive demons: Entering Monday's outing, the Utah Jazz were fourth in the league in blocked shots (5.7 per game) and eighth in steals (8.3). Those marks were helped by their momentum-changing 13 blocks and their routine eight steals. Al Jefferson lead the charge with four swats, followed by three from little-used Jeremy Evans. Millsap and Harris added two apiece.
Using his leaping ability and timing, Evans paired with Derrick Favors to alter many of San Antonio's interior attempts.
Devin's hitting his stride: It can be argued that no one has played better of late than point guard Devin Harris, as shown by his game-high 25 points. In the past three games, his averages: 23.7 points (including 9.3 free throw attempts), 5.7 assists, 3 rebounds, and 1.3 steals, not to mention 11-22 three-pointers. He is playing with confidence, particularly in the fourth quarter, and the team is responding.
Odds n' ends:
Thanks to the missing trio, the Jazz expectedly outscored the San Antonio starters 71-39. Conversely, the Spurs bench dramatically outplayed their Utah counterparts, 45-20.
All nine San Antonio players who saw action played between 20 and 35 minutes.
After Sunday's disparity, it was Utah's turn to dominate the free throw contest, shooting 33 to San Antonio's 10 attempts.
One evening after a career-high 16 points, DeMarre Carroll went scoreless in his first career Jazz start.
David Smith is providing instant analysis for Deseret News' Utah Jazz coverage this season. He works for LDS Philanthropies and also blogs for the Utah Jazz 360 website. He can be reached at [email protected] or on Twitter at davidjsmith1232.