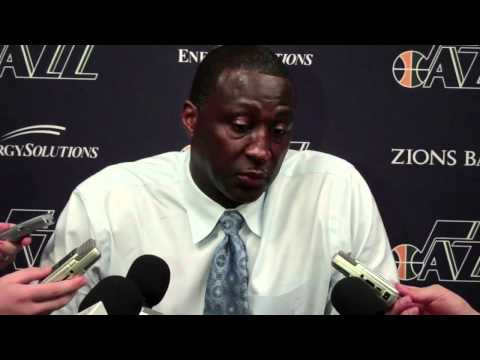 View 25 Items
Brandon Brown, Deseret News

SALT LAKE CITY — John Stockton and Greg Ostertag came to EnergySolutions Arena to watch a game Monday night.
The San Antonio Spurs' three stars — Tim Duncan, Tony Parker and Manu Ginobili — stayed back in the Alamo City.
And surprisingly, it took quite a while for the Utah Jazz to arrive, too.
Devin Harris led a comeback in the fourth quarter as the Jazz overcame an eight-point fourth-quarter deficit to beat the starless Spurs 91-84 to keep their playoff hopes alive.
Harris entered the game midway through the fourth with the Jazz down eight, but he led Utah to a big turnaround and finished with 25 points with three 3-pointers.
Paul Millsap had a couple of big buckets late in the fourth quarter, including a huge putback slam. Gordon Hayward added 16 points, and Al Jefferson chipped in 12 points.
Tiago Splitter and Gary Neal each came off the bench to score a team-high 14 points for the gutsy Spurs.
Utah played without four guys. Earl Watson (knee) will require surgery for his torn meniscus, and C.J. Miles is out with a strained calf.
Jeremy Evans was also injured in this one, spraining his right ankle in the second half.
DeMarre Carroll, a night after scoring a career-high 16 points, was inserted into the Jazz's starting lineup in place of Miles. He was scoreless.
The Jazz, however, took 42 minutes to take advantage of that massive San Antonio roster void.
EMAIL: [email protected]
TWITTER: DJJazzyJody