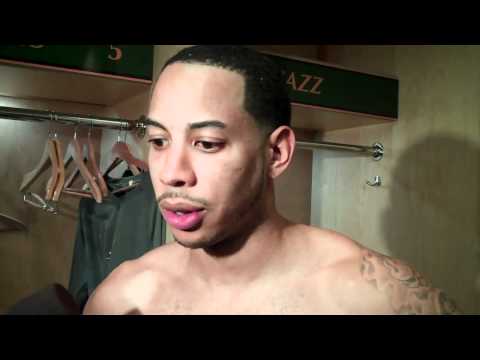 View 26 Items
Brandon Brown, Deseret News

In a game that had ramifications for both the Utah Jazz's playoff and NBA draft hopes, the former was aided by a spirited performance in the second and fourth quarters. The Jazz defeated the Golden State Warriors 104-09 Friday evening.
After dropping the past two home outings, the Jazz battled through some illness (Paul Millsap and C.J. Miles) and injury (Al Jefferson) issues to earn the much-needed EnergySolutions Arena victory.
Leading by example: Two players who have not seen the postseason for many seasons were the ones who propelled and compelled the Jazz to win. Jefferson and Devin Harris simply would not allow Utah to lose Friday.
Jefferson filled his normal role of the Jazz's leading scorer, tallying 30 points (19 coming in the first half) on stellar 13-of-18 shooting. Golden State's front court simply could not keep up with his mixture of post-up plays and jump shooting. Jefferson, despite suffering a strained abdominal muscle, also added 11 rebounds and five blocked shots in 39 minutes.
Harris played perhaps his finest game this season, gunning for a season-high 28 points while dishing five assists and garnering two steals. His eight consecutive points in the final quarter gave Utah the game's momentum. His regular aptitude of driving to the basket, which earned him eight free-throw attempts (making seven), helped open up his outside shooting. Harris nailed five of eight 3-pointers, including three in the fourth quarter.
Rotation of rotations: After going with his recent regular-rotation patterns for his back court, Utah head coach Tyrone Corbin opted to play a two-point guard lineup the final 30 minutes of the game, allowing Harris, Earl Watson and Jamaal Tinsley opportunities to play together. It was a curious move, given the strong play of late by rookie Alec Burks and veteran Miles. But it paid off.
Their numbers were fairly pedestrian, but their leadership and poise contributed to the second-half success. They were both integral in setting up Harris' big night. Watson had only one point but corralled six rebounds and handed out a game-high six assists. Tinsley added seven points and two dimes.
Random thoughts:
While Gordon Hayward saw 37 minutes of game time, the other young players— Burks, Derrick Favors and Enes Kanter — combined for just 30.
The player taken right before Burks, Warriors guard Klay Thompson, had an excellent game. Behind some incredible perimeter marksmanship, the rookie had 23 points (four treys), five rebounds and three steals. His outside shooting kept the game close through the second half.
Utah distributed and took care of the ball well Friday, finishing with 23 assists and just 12 turnovers. The Warriors had 17 miscues.
Golden State finished with nine 3-pointers, snapping a string of three games in which Jazz opponents had 10 or more makes from downtown.
David Smith is providing instant analysis for Deseret News' Utah Jazz coverage this season. He works for LDS Philanthropies and also blogs for the Utah Jazz 360 website. He can be reached at [email protected] or on Twitter at davidjsmith1232.