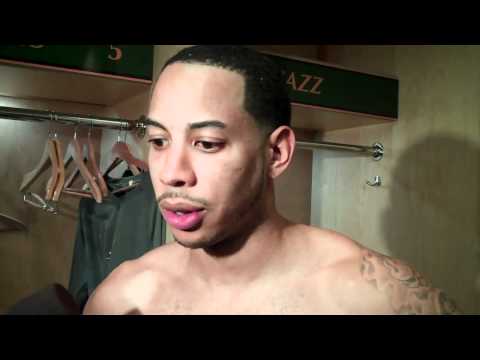 View 26 Items
Brandon Brown, Deseret News

SALT LAKE CITY — Al Jefferson scored 30 points and Devin Harris had 11 of his 28 points in the fourth quarter as the Utah Jazz kept their postseason hopes intact with a 104-98 victory over the Golden State Warriors on Friday night at EnergySolutions Arena.
Utah (29-27) trailed Golden State 80-78 entering the final period, but Harris hit back-to-back bombs from 3-point range, then added a layup off a steal for a one-man 8-0 run that gave the Jazz an 86-80 advantage.
Thanks to Jefferson's steady scoring and another 3 by Harris, Utah led by as many as 10 points, 96-86, before Klay Thompson brought the Warriors back with some slick shooting down the stretch. Thompson scored 11 of his 23 points in the fourth period as Golden State got back within four at 102-98 in the final minute before the Jazz prevailed.
Jefferson also had 11 rebounds for Utah, while Gordon Hayward added 14 points and Paul Millsap chipped in with 12 points — 10 of those coming in the second half — and seven rebounds. The reserve point guard tandem of Jamaal Tinsley (seven points) and Earl Watson (six rebounds, six assists) was also instrumental in Utah's victory.
David Lee scored 26 points and had 12 rebounds for Golden State (21-33), and along with Thompson's 23 points, Jeremy Tyler was also in double figures for the Warriors with 14 points.
EMAIL: [email protected]