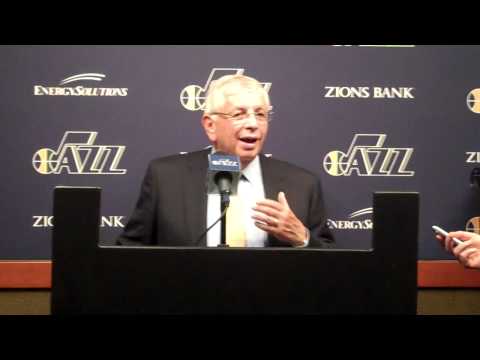 View 29 Items
Brandon Brown, Deseret News


An NBA season is full of ups and downs, blowouts and buzzer beaters. Unfortunately for the Utah Jazz, they suffered their second straight nail-biting home loss, falling to the Phoenix Suns 107-105 after a series of dramatic, improbable plays by both teams.
In a crucial game with definite postseason implications, Utah fell short Wednesday and find themselves on the outside looking in. With a win, the Jazz would've been just ½ away from the Denver Nuggets and Houston Rockets. Instead, the Suns leapfrogged them, leaving Utah in 10th place. It'll be an uphill battle going forward.
Clutch plays: What more can be said about the timeless Steve Nash? The 38-year old point guard continues to dribble, pass, and shoot his way to the Hall of Fame. He had a pedestrian — for him — game with 13 points and nine assists, but it was his pair of jumpers within 12 seconds of each other that sealed the victory for Phoenix. The first one had him wide open after Earl Watson was taken out by a screen. The second one, a pair of Jazz players backed slightly off, just enough to let him split the defense.
All that said, the clutch shot of the night was an unlikely Channing Frye turnaround three pointer that banked in with 1:06 left, giving Phoenix a 103-98 lead. That was a back breaker for the Jazz, who had played excellent defense the whole play.
For Utah, Paul Millsap and Al Jefferson combined to score the final 12 points and almost had 14, had Millsap's tip-in come just a hair earlier. A huge play occurred when Millsap pick-pocketed the ball from Nash and earned a clear path foul.
Phoenix rejuvenation: The phoenix is a mythological bird that had the ability to be reborn out of its ashes. Enter Michael Redd. Entering this season, the veteran guard had only played 61 out of a possible 246 games over the past three years. Once one of the deadliest shooters in the NBA, he was a last-minute, low-cost addition for Phoenix. Fortunately for both parties, it's paying off.
He was one of the biggest catalysts for the Suns Wednesday, going for 19 points (on eight of 17 shooting) in just 22 minutes. He was able to repeatedly get open for perimeter shots (three three-pointers), while also managing some nice forays to the basket.
He averages just 7.1 points per game, but has 35 the past two outings. And he'll continue to be a integral player for the Phoenix playoff push.
Quick hits:
Balance was big for Phoenix as nine players scored between seven and 19 points. Seven made it into double-figures.
Likewise, the Jazz had a trio of twenty-point scorers in Millsap (25 points), C.J. Miles (22), and Gordon Hayward (20). Hayward also earned his first career double-double, collecting 10 rebounds.
In some curious +/- trends, all the Utah starters had positive marks, while their Phoenix counterparts were negative. Conversely, the Suns reserves were all positive, while the Jazz bench players were the opposite.
Phoenix, in going 13 of 31 from three-point range, was the third consecutive team to hit 10 or more treys against Utah. During that span, Jazz opponents have hit 35 of 74 shots from downtown — 47.3 percent.
David Smith is providing instant analysis for Deseret News' Utah Jazz coverage this season. He works for LDS Philanthropies and also blogs for the Utah Jazz 360 website. He can be reached at [email protected] or on Twitter at davidjsmith1232.