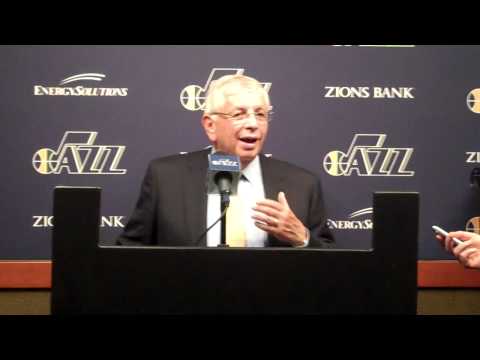 View 29 Items
Brandon Brown, Deseret News


SALT LAKE CITY — Ageless point guard Steve Nash nailed a leaner in the lane with 1.7 seconds left and Paul Millsap's last-second tip-in was ruled after the final buzzer as the Phoenix Suns slipped past the Utah Jazz 107-105 on Wednesday night at EnergySolutions Arena.
The 38-year-old Nash saved his best for last, hitting a jumper to put Phoenix ahead 105-103 with 14 seconds remaining and, after Al Jefferson scored inside to tie it at 105 with 9.4 seconds to go, Nash split two Utah defenders and splashed in what proved to be the game- winner in what was a devastating home-court defeat for the Jazz.
On Utah's last possession, C.J. Miles' long jumper from the corner was partially blocked and fell far short. Millsap grabbed the short shot and quickly put up a layup as the buzzer sounded. Officials looked at the video replay and correctly ruled that the ball was still on Millsap's fingertips when the lights encircling the backboard came on, signaling that time had indeed expired before it completely left his hands.
It was a virtual instant-replay of Utah's loss to Sacramento last Friday, when Jefferson's last-gasp tip-in was also ruled too late in a 104-103 loss to the Kings.
With the win, Phoenix (28-26) moves ahead of Utah (28-27) and into ninth place in the tight Western Conference playoff chase. The Suns are now just a game behind both Houston and Denver, which are tied for seventh place in the West standings at 29-25. Utah now finds itself in 10th place, trailing the Rockets and Nuggets each by two games in the loss column with just 11 games remaining in the regular season.
Millsap had 25 points and eight rebounds, Miles added 22 points and Gordon Hayward had 20 points and 10 rebounds for Utah. Jefferson contributed 16 points and seven boards, and Derrick Favors had nine points and eight rebounds off the bench.
For Phoenix, Michael Redd led the way with 19 points, including seven in the fourth quarter. Marcin Gortat added 14 and Nash and Channing Frye chipped in with 13 points apiece. Frye banked in a 3-pointer as the shot clock expired to give the Suns a 103-98 lead with 1:06 to go, setting the stage for Nash's last-minute heroics. Markieff Morris had 11 points and Jared Dudley 10 more to give Phoenix seven players in double figures. Sebastian Telfair scored seven of his nine points in the fourth period.