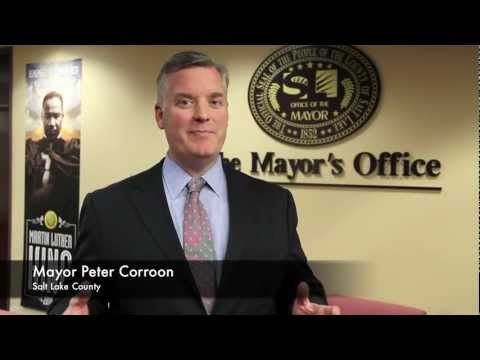 View 28 Items
YouTube

We can fix heart disease with remarkable success here, but what we really want to do is prevent it.

—Dr. Don Lappe, Intermountain cardiologist
MURRAY — Twelve city leaders began a 100-day fitness challenge Thursday, promising to have healthier hearts come July.
"And I'm the only one dressed like I'm ready to go work out," Murray Mayor Dan Snarr said, jeering his colleagues who were dressed in business attire. Snarr said he already takes exercise and fitness seriously, but looks forward to a little bit of healthy competition — and the 61-year-old also made it clear that he aims to win.
Snarr is one of eight mayors, two city councilmen, a city manager and a city attorney vying for better health in the "My Heart Challenge," sponsored by the Intermountain Medical Center Heart Institute.
Other participants include Riverton Mayor Bill Applegarth, Salt Lake City Councilman Carlton Christensen, Salt Lake County Mayor Peter Corroon, Cottonwood Heights Mayor Kelvyn Cullimore, Midvale City Attorney Craig Hall, South Jordan Mayor Scott Osborne, Draper Mayor Darrell Smith, West Jordan City Councilman Ben Southworth, Herriman City Manager Brett Wood, Taylorsville Mayor Russ Wall and South Salt Lake Mayor Cherie Wood.
The group recently met with Intermountain dietitians and exercise physiologists to write down body measurements and record current health markers, as well as route an action plan for success. Intermountain officials will be tracking their progress online at www.MyHeartChallenge.com.
In addition to updates, healthy recipes, advice and other resources will be posted online to keep any interested residents up on their official's game. The public is also invited to participate alongside their leaders.
"If people see that I can do things to be more heart healthy, maybe it'll catch on," Wall said. Wall, 52, began eating healthier and exercising more earlier this year. He's lost 40 pounds and is just beginning his quest to run a couple of 5Ks this summer.
The public is welcome at Intermountain's ninth annual 5K on June 23 at Sugarhouse Park. Wall said he hopes to lose another 15 pounds by then.
"I want to be healthy, whatever it takes," he said, adding that he'd love to hike a mountain and not be out of breath or be able to chase his grandchildren around the yard in the years to come.
"Heart disease remains the leading cause of disease and disability in our society," said Intermountain cardiologist Dr. Don Lappe. He said the ongoing challenge aims to inspire and motivate residents of the various cities to "make positive changes in their lives."
Lappe said that up to 10,000 Utahns die each year from cardiovascular disease, which remains the leading cause of death nationwide.
"We can fix heart disease with remarkable success here, but what we really want to do is prevent it," he said.
The ambitious leaders, who were called "role models" by Lappe, will tally points for each heart-healthy meal they consume, each exercise session and for various other activities they engage in to work toward a common goal.
Intermountain dietitian Kary Woodruff counseled participants to adopt small changes along their way to a healthier lifestyle. She outlined some steps while everyone dined on their first heart-healthy meal of the competition: carrot-oat muffins, spinach and sun-dried tomato quiche made with some cottage cheese and a fruit and tabbouleh salad with lime dressing.
Cherie Wood, mayor of South Salt Lake, said she looks forward to cooking healthier meals for her family, as well as lowering her blood pressure, which she said has increased since assuming the administrative job.
"I look at it like this: I have 100 days to make some changes," she said.
Weight and other measurements will again be recorded in July, and a couple of cash prizes will be awarded to promote health in the city where the respective leaders make the most progress in the competition. The contest ends July 2.
E-mail: [email protected] Twitter: wendyleonards