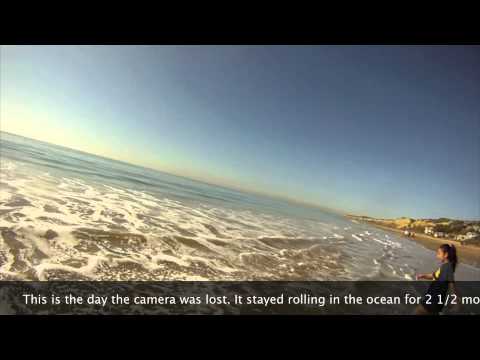 View 3 Items
YouTube

ST. GEORGE — A family in southern California is going to be reunited with a missing GoPro camera that slipped into the ocean just before Christmas — and it's all thanks to an honest Utah man.  
Jeremiah Wilson, of St. George, found the camera March 14 a couple miles away from Crystal Cove State Park near Laguna Beach, Calif. Rather than pocket it, he cobbled together clips from the video and posted the compilation online — hoping the owner could be located.
Wednesday, Chris Deneen's teenage son was about to play in a high school golf match when he got a text message from a friend.
"It said, 'Hey, you're the top video on the GoPro Facebook page,'" Deneen recalled Thursday. His son was confused until the friend explained, "Yeah, there's a video of you."
Deneen looked at the video online and sure enough, it was his. He contacted Wilson.
"What a great opportunity to show my boys that there are still upstanding, trusting citizens in the world — even though we get the slant on the bad people a lot of the time," Deneen said.
Deneen and his family were at the beach on Dec. 23 when the GoPro camera slipped off the head of one of Deneen's sons and fell into the ocean. After about an hour of searching, Deneen said they chalked it up as a loss.
Wilson had hoped when he found the camera along the shoreline that it still worked.
"I was excited when I opened it up, plugged it in and saw these kids shooting guns. I thought, 'This is pretty cool,'" Wilson said.
The video contained family clips of shooting and other activities in Oregon, as well as the last fateful moment when the camera plopped into the ocean. The GoPro actually recorded two hours of video at sea, even capturing what looks to be a large fish passing by.
Wilson said he saved the footage from the camera, so he'd be able to send the family the links to the raw video.
For 15-year-old Morgan Deneen, who lost the camera, the find brought a sigh of relief. He was going to have to buy a new camera for the family.
"He brags that procrastination paid off this time because now his bank account doesn't take a hit," his father chuckled.