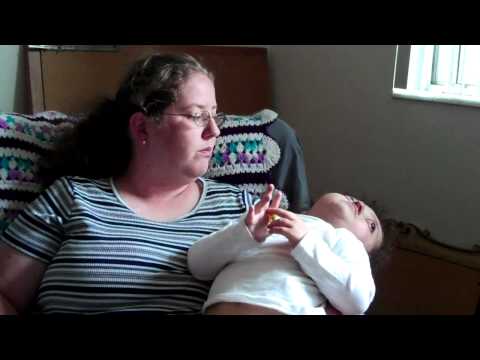 View 18 Items
Brandon Brown, Deseret News

I want to be able to have my daughter experience everything that is out there.

—Patrice Carrillo
SALT LAKE CITY — Three-year-old Elyza Carrillo sat with a bucket held to her mouth. Her carefully timed breaths helped to ease the queasy stomach she was feeling Thursday.
"Calm down," her mother, Patrice Carrillo, said while stroking Elyza's back. The nauseous moments happen two or three times each day, whenever the bouncy, brown-eyed toddler gets worked up or otherwise anxious.
A feeding tube inserted in Elyza's stomach sometimes pumps too much doctor-prescribed vanilla-flavored liquid into her body, giving it nowhere to go but out. The little girl needs the nutrients she gets from being hooked up to a machine four times a day and throughout the night, but she could probably live without all the drama.
Elyza is limited by various medical issues, but she's made it this far and her parents know she has a definite reason for living. Now, they don't want anything holding her back.
"I want to be able to have my daughter experience everything that is out there," said Carrillo. The family's days — and decisions — are focused on making that happen.
Elyza wants to do just about everything any other child can do. But other kids and the parents of those kids sometimes don't know how to respond or react to her. Getting Elyza off the feeding tube could help achieve a little normalcy.
"Depending on the severity of the disabilities, families need to focus on the positive things in life," said Dr. Frances Thompson, a Salt Lake City child psychologist. Thompson has never met the Carrillos, but said dealing with abnormal circumstances has the potential to bring a lot of stress into a family.
"It is important for them to normalize their lives as much as possible," she said. And as far as others who come around the Carrillo family, Thompson suggests that they "imagine themselves in that position."
"If you have children, there's no way you wouldn't understand that children just need to be loved," she said. "You have to instill hope and allow them to be the best they can be."
The family moved to Salt Lake from Provo three months ago to be closer to Primary Children's Medical Center if health problems should arise. Elyza's been flown there once, and Carrillo said it was "one time too many."
When Elyza was born, everything pointed to a healthy, happy little girl. But she failed to thrive, weighing only 10 pounds at 6 months. At 4 months, her parents awoke to swollen bumps all over their daughter's head. Elyza was later diagnosed with hydrocephalus and Crouzon syndrome, and a shunt was placed in her skull to prevent her brain from further swelling, and to save her life.
Doctors also found that Elyza had a hole in her heart, which causes her to tire more quickly than other children. The abnormality led to a need for the feeding tube, as children with lower functioning hearts, such as Elyza's, don't typically eat as much or develop enough suction ability to get an appropriate amount of food for their growing bodies.
"It is a miracle she's sitting here," Patrice said. "She has fought to be alive for her whole life, with one sickness or another."
Her parents said they hope that some day Elyza understands what she's been through.
"We never expected to have all these medical problems," said Eric Carrillo, Elyza's dad. He is legally blind and also suffers with hydrocephalus and diabetes, among other health issues. There was always a 50 percent chance that his children would inherit his genetic conditions.
Patrice said there was also a 50 percent chance that any child of theirs could be "perfectly normal," without any medical problems.
In addition to scheduled feedings, Elyza must be monitored at all times. A simple fall could dislodge her shunt and lead to serious complications. She is also hooked up to oxygen and a heart monitor while she sleeps, as a precaution.
"My wife wants more kids, but we use a lot of our energy just on (Elyza), so it might be hard," Eric Carrillo said. He works as a technical services contractor for the Utah Council of the Blind. His wife is his driver and as a team, the two help other blind people organize their own lives and learn to use a computer.
Their monthly income of approximately $2,000 usually covers whatever medical expenses Medicaid leaves unpaid. And while Elyza is nourished with what Medicaid sends monthly, the Carrillos typically dine on whatever can be found in their food storage supplies.
"We have to save as much as we can for Elyza," her mother said. They're hoping that a four-month stay at St. Joseph's Children's Hospital Center for Pediatric Feeding and Swallowing will help Elyza get rid of the feeding tube and give her a better chance at leading a normal life.
"When they put it in, it was supposed to be for 14 days, to increase her appetite," Patrice Carrillo said. Doctors haven't given them a plan to get the feeding tube out, believing that without it, Elyza might lose weight again and could die.
It will cost the family approximately $29,000 to go to the center in Paterson, N.J., which is one of the the only facilities in the country that treats children with eating issues. Medicaid will cover all but $5,000 of Elyza's medical expenses, but the family needs money to get to New Jersey and to cover the costs involved with staying there for an extended period of time.
"It makes me feel like I have failed as a mom when my daughter is struggling or ends up in the hospital," Carrillo said. "We're pretty much on pins and needles with Elyza. We have to watch every little thing that she does."
Whenever they end in a lengthy hospitals stay, doctors tell the family it could be the last time they are together, she said. More than anything, Carrillo just wants to see her daughter succeed and be well.
Just last month, Elyza began asking for a sippy cup with water. Carrillo was excited about the progress, but quickly realized her daughter still has so far to come in terms of eating what other 3-year-olds eat. Elyza is still invited to sit with the family during mealtimes.
"We are trying to have her be a part of the family even if she's not eating our food," Carrillo said, adding that it is hard to watch her daughter grow up, wanting to do what everyone else her age is doing.
The local hospital doesn't offer much support for families of patients with feeding tubes. "After they put it in, it's up to the parents to figure out how to get it out," she said.
The family has set up a Facebook page, a blog and an account in Elyza's name at Wells Fargo Bank, where people can get more information or make donations to "Help Elyza Eat."
"We're working as hard as we can to provide the best for our daughter and she deserves the best," Carrillo said, adding that she often goes door-to-door selling various handmade crafts to earn additional money for the family.
The conscientious parents read with Elyza, play blocks and watch movies together. They love to explore the nearby mountains and take long drives to sightsee. But the parents of the vibrant little girl are worried the feeding tube is holding their daughter back.
"We work really, really hard with her, we play with her all the time and give her the best opportunities to grow and learn," she said. "Now that she's getting older, it's getting harder for mom and dad to pacify her, because there are kids outside and she sees and hears them and she wants to interact with them."
Carrillo knows she has to let her daughter grow up, and so far, she's been carefully protective of Elyza.
"We'll always be concerned for her safety, but (getting the tube out) will make it so she can actually go outside and play outside and be more normal," Carrillo said. "It will be nice to let her go to daycare or to play groups without having to worry about that tube being pulled out."
With the feeding tube in place, Elyza has yet to experience what it is like to eat birthday cake and ice cream. She has never sat with a bowl of popcorn on her lap to watch a movie and she shuns the thought of putting anything in her mouth. Patrice said it is unknown whether her daughter even knows how to taste.
"I'm pretty sure she knows she is special in her own way," she said. The 3-year-old is smart, is courteous and friendly and wants everyone to be a part of what she's doing.
Elyza was heading to the doctor again Friday, after several days of sickness from having to eat with the feeding tube. "Any time she gets sick it could potentially mean hospitalization for her," her mother said. "We just want her to be OK."