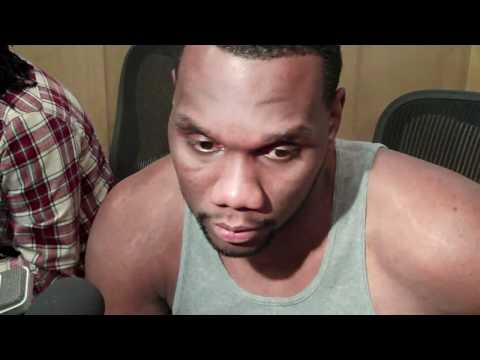 View 59 Items
YouTube

How quickly the tides can turn. Just a few short weeks ago, the Utah Jazz were struggling and all the talk was about the upcoming NBA draft. Shows what a six-game win streak can do for a team's fortunes. In one of what will be many pivotal games, the Jazz soundly defeated division rival Denver Nuggets, 121-102.
Utah used a dynamic and high-paced third-quarter to defeat Denver, pushing them into a three-way tie with the Nuggets and the Houston Rockets. All are 26-22, but by virtue of some tie breakers, the Jazz went from being outside the Playoff picture into the seventh seed.
Offensive juggernaut: Facing the league's highest scoring squad in Denver, it was the Utah Jazz who employed a run-and-gun offense Friday night. We'll let the statistics tell the story:
As a team, Utah connected on 48 of 81 from the field — a 59.3 percent clip. They also nailed 46.7 percent from three-point territory (seven of 15).
Utah assisted on 32 of said 48 field goals — an impressive 66.7 percent mark. With only 14 turnovers (nine of which came by the midway point in the second quarter), Tyrone Corbin's team had a 2.29 assist/turnover ratio.
64 points in the paint and 24 fast break points contributed to the aforementioned numbers.
Seven players scored between 12 and 23 points: Al Jefferson (23), Gordon Hayward and Alec Burks (15 apiece), Paul Millsap (14), Devin Harris (13), and Derrick Favors and C.J. Miles (12 each). It should be noted that six Nuggets players also reached double-digit points.
The Jazz were also scrappy on defense — primarily in the second half. They managed 10 steals and eight blocked shots.
Despite a subpar 62.1 percent free throw effort, Utah scored a season-high 119 points.
Energetic and frenetic:
The third quarter was among the Jazz's most vibrant and exhilarating this season. Led by Devin Harris at the helm, Utah pushed what was an eight-point halftime advantage all the way to 27. With a barrage of three-pointers, precise passing, and hustle plays, the Jazz manhandled the visiting Nuggets. No play punctuated things more than Harris' lightning quick foray to the hoop for an emphatic dunk — his lone slam of the season.
Denver used a mini-run the final three minutes to cut it to an 18-point lead at quarter's break. Utah never was threatened beyond that.
Quick hits:
The past two games have highlighted Hayward's all-around abilities, as evidenced by his averages of 16.5 points, 7.0 rebounds, 6.0 assists, 2.0 blocks, and 1.5 steals in those outings.

Earl Watson returned for a brief cameo, registering three assists in two minutes — two of the dimes going to partner-in-crime Jeremy Evans for dunks.
Four Utah starters had a +/- rating of at least +20 points.
David Smith is providing instant analysis for Deseret News' Utah Jazz coverage this season. He works for LDS Philanthropies and also blogs for the Utah Jazz 360 website. He can be reached at [email protected] or on Twitter at davidjsmith1232.