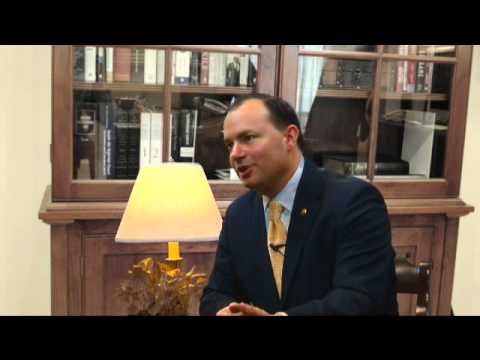 View 2 Items
YouTube

There is a lot of attention paid to how Congress works, but few understand all that goes into how decisions are made at the Supreme Court. This is where fundamental constitutional questions are decided, so it is a very important part of our system and our democracy.

—Sen. Mike Lee, R-Utah
WASHINGTON — Sen. Mike Lee, R-Utah, released the first in a series of videos today discussing how the Supreme Court operates.
In a press release, Lee said the videos give behind-the-scenes information into the procedures of the Supreme Court, and the constitutional questions surrounding ObamaCare.
"There is a lot of attention paid to how Congress works, but few understand all that goes into how decisions are made at the Supreme Court," said Lee. "This is where fundamental constitutional questions are decided, so it is a very important part of our system and our democracy."
In the first of what Lee said will be a series of three videos, he explains the process of lawyers being given an allotted amount of time to give their oral arguments. However, he said many times justices have already made up their minds before oral arguments.
ObamaCare will go before the Supreme Court on Monday for a three-day hearing. Lawyers on both sides argue whether the individual mandate, which requires every American to purchase health insurance or face a monetary penalty, is even constitutional.
Those against ObamaCare argue that Congress does not have the power to mandate the purchase of health insurance. Those arguing for ObamaCare believe the Commerce Clause does give Congress the power to require Americans to purchase health coverage.