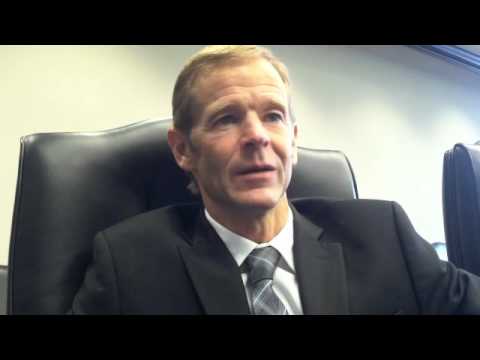 View 7 Items
Trent Toone, Deseret News

It was probably the first time a pommel horse had been on the ninth floor of the Joseph Smith Memorial Building.
One recent afternoon for just over an hour, 50-year-old Olympic champion Peter Vidmar animatedly paced back and forth, speaking rapidly at times with microphone in hand as he shared his trademark "risk, originality and virtuosity" message with hundreds of Deseret Media Co. employees.
During the inspiring, humorous and entertaining presentation, the 5-foot-5 gymnast, clothed in athletic wear, jumped on the pommel horse to demonstrate his unique concepts with circles, flares and other aerodynamic moves. Like the day he won three medals in the 1984 Los Angeles Summer Olympic Games, Vidmar's energetic routine — both the gymnastics and speaking — was polished and well-timed and choreographed. When it was over, the audience applauded, unofficially awarding him a 10.
Since winning two gold medals and a silver about 28 years ago, Vidmar has written a book, worked as a television gymnastics commentator, found success on the corporate lecture circuit and remained intimately involved with his sport as chairman of the board of USA Gymnastics. He also serves as vice chairman of the California Governor's Council on Physical Fitness, on the Board of Governors for the Cause for Hope Foundation, and is vice president of the Orange County Youth Sports Foundation, a program that benefits underprivileged kids. Additionally, the husband and father of five is a member of The Church of Jesus Christ of Latter-day Saints and actively serves in various capacities.
When asked what motivates a motivational speaker, Vidmar smiled and quoted one of his favorite verses of scripture.
"I love Doctrine and Covenants 58:27 and being 'anxiously engaged in a good cause.' I enjoy doing good," Vidmar said in an interview, hours before his presentation. "It's not easy sometimes, but it's important."
Vidmar credits his parents, John and Doris Vidmar, with teaching him the fundamental lessons that helped shape his character and life.
His father, who suffered from polio, showed Peter by example that Vidmars don't complain or quit. When Vidmar was a boy, his father came home one day with broken glasses and a bloody face. Doris Vidmar thought someone had beaten him up. John Vidmar, who worked in downtown Los Angeles, said he was crossing the street when his good leg hit a pothole and his bum leg couldn't support his weight. He couldn't get his arms up fast enough and hit the pavement face first. People stopped, brushed him off and helped him continue on his way.
"He laughed and said, 'I've got to be more careful next time,'" Peter Vidmar said. "As a 10-year-old boy, that really had an impression on me. I thought, 'Why doesn't he complain and curse life?' He struggled physically but that wasn't his attitude. He never quit, and that became our family motto. He taught us to finish what we start."
When a sibling phoned home from college with a problem, Vidmar overhead his father listen and offer encouragement.
"Well, you know what the family motto is. Just do the best you can and I'll talk to you later," Peter recalled his father's words. "He was an example to all of us from that standpoint."
Vidmar has tried to pass along those and other lessons to his own children.
In the fall of 1972, Vidmar's parents responded to a gymnastics ad in the newspaper and were introduced to a man who would have a tremendous influence on Peter's life. He was coach Makato Sakamoto, an international gymnastics champion. Not only did Sakamoto inspire Vidmar to work hard, but he was and continues to be a great teacher, honest to the core and full of integrity, Vidmar said.
"He didn't have to tell me to work hard or be disciplined. He filled my mind with stories of the Olympic Games," Vidmar said. "Just through his storytelling, he made becoming an Olympian a romantic quest for me. I wanted to have those experiences. I knew he wanted the best for me."
As the USA men's gymnastics team captain in 1984, Vidmar led his teammates to America's first ever team gold medal in a stunning upset over the defending world champions, the People's Republic of China. He also won the silver medal in the individual all-around competition, and with a perfect score of 10, captured the gold medal on the pommel horse. He was later inducted into the U.S. Olympic Hall of Fame.
What do the medals mean to him now?
"They are a symbol of the process, the daily efforts to get better at something," Vidmar said. "The medals just tell a story of a boy who fell in love with a sport, tried to remain true to his training and never looked back."
But winning Olympic gold is not Vidmar's greatest life accomplishment.
"I don't know if children are an accomplishment, but my greatest joy in life comes from seeing my (five) children find joy," Vidmar said. "I don't know if life is really about accomplishing things; I think it's more about relationships."
Vidmar is a lifelong member of the LDS Church. His Mormon roots go back to his great-great-grandfather, Solomon Chamberlain, who was baptized by the Prophet Joseph Smith. Vidmar is proud of his pioneer heritage and strives to honor their sacrifices by being a good Latter-day Saint.
Growing up, Vidmar attended church and seminary. When he was at UCLA, he met a pretty girl on the women's gymnastics team. "I figured that was the best place to meet short-statured girls," he said.
As his relationship with Donna Harris deepened, she investigated the LDS Church and eventually asked Vidmar to baptize her. More than a year after Donna's conversion, the couple was married in the temple.
"To see her go through the conversion process was a tremendous experience for me personally. It really was for myself as well," said Vidmar, who didn't have an opportunity to serve a mission, but is proud his sons did. "It really strengthened my testimony. I can't imagine my life without the gospel."
In May 2011, Vidmar was named the chef de mission for the 2012 U.S. Olympic team, but he abruptly resigned after a firestorm of negative attention due to his financial contribution to California's Proposition 8 ballot initiative, defining marriage as between a man and a woman. He has no regrets.
"My choice to resign was based on my desire to keep our focus and the attention of the media on the athletes and the good things they do," Vidmar said. "It hurt, because it was a great honor. If athletes are going to be asked questions about something that really had no relevance to their training and preparation for the Olympic Games, then it wasn't going to be beneficial for me to serve. When I realized it could be a distraction to the athletes, it was a very easy decision just to step down. I wanted the athletes to have every possible advantage they can have."
In his spare time, Vidmar is training for an upcoming triathlon and delights in spending time with his family. Last year, they rented a cabin in the mountains with no phone or Internet service and passed the time running, biking and hiking. They also have a tradition of going to Lake Powell. He tries not to pull out his Olympic card on his kids very often — he wants them to reach their own dreams. Hopefully, being anxiously engaged in a good cause will rub off on them in the process.
"As time has gone on, I've learned life isn't about accomplishing things — it's really about building relationships. What I treasure most is the relationships I have with my wife and children, with family and friends," Vidmar said. "That's what makes life full and enriching."