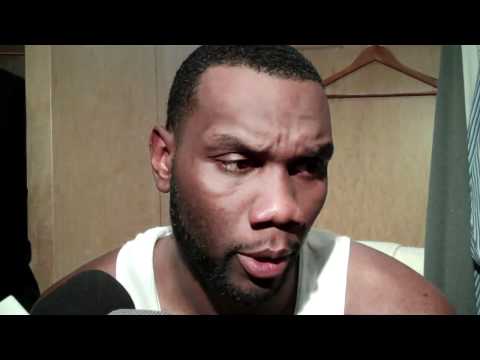 View 12 Items
Brandon Brown, Deseret News

In back-to-back outings against some of the Western Conference's contenders, the Utah Jazz's mettle was tested and in both games, Utah emerged victorious. Playing against the team with second-best record in the league, the Oklahoma City Thunder, Utah did just enough to pull out the squeaker 97-90.
Utah has moved to 24-22 for the season, just a half-game out of the eighth slot of the playoffs. Winner of four consecutive games, the Jazz are now 18-6 at EnergySolutions Arena, good for fourth in the conference.
Superstars contained: Entering Tuesday's contest, the dynamic duo of Kevin Durant (27.7 points per game) and Russell Westbrook (24.0) were the second and fifth leading scorers in the NBA. Their total against the Jazz was a palatable 41 points.
Durant struggled as C.J. Miles and Gordon Hayward deserve credit for playing some tough defense. Both draped the superstar and bodied up on him just enough to assist in a very subpar six of 22 (27.3 percent) from the field outing — far below his 50.0 percent season average.
Westbrook was extremely aggressive early on and had 13 points ten minutes into the game. While he shot well, the Jazz point guards (Devin Harris and Jamaal Tinsley) were able to apply enough pressure to make him more of a passer the final three quarters. In the end, he finished with 23 points and a paltry three assists.
Tinsanity: When the Jazz inked the 34-year old veteran prior to the season's start, many Utah fans were left scratching their heads. After all, he had only played 77 games in four years, including two seasons where he was absent from an NBA roster.
Suffice it to say, he's turned doubters into believers as his play has spoken for itself. In the wake of Earl Watson's recent ankle injury, Utah head coach Tyrone Corbin slotted him into the back-up point guard spot and the Jazz second unit has not skipped a beat. On Tuesday, Tinsley's play was integral to the victory, as he tallied 11 points and three assists in 18 minutes. In fact, he was Utah's leading scorer for much of the first half, with nine. His play where he dribbled the ball between an opponent's legs and nailed the jumper was a big highlight.
In the eight games in which Tinsley has played 10 or more minutes, he is averaging 8.0 points and 5.6 assists per outing, while hitting six of 12 three-point attempts. Utah is 5-3 in those eight games.
Balanced basketball: While the Jazz do not have the superstar cachet of their division rivals, Utah exuded teamwork with six players in double figures: Paul Millsap (20), Al Jefferson (16), Harris (15), Hayward (11), Tinsley (11), and Miles (10).
Points was not the only category in which the Jazz put forth a team effort. Six Utah players had five or more rebounds.
Quick hits:
At 7-3, the Jazz are tied for the second best record in the NBA the past 10 games.
Oklahoma City had more fouls than Utah, 24-21. That said, the Thunder outshot the Jazz from the free throw line 30-22.
The Thunder had only 15 assists compared to 20 turnovers.
Utah received the bad news that starting small forward Josh Howard will be missing the rest of the season with a knee injury. His 23.4 minutes per game average were divvied out to Miles (28 Tuesday, compared to his 19.2 average), Hayward (32 compared to 27.4) and rookie Alec Burks (25 compared to 13.9).
David Smith is providing instant analysis for Deseret News' Utah Jazz coverage this season. He works for LDS Philanthropies and also blogs for the Utah Jazz 360 website. He can be reached at [email protected] or on Twitter at davidjsmith1232.