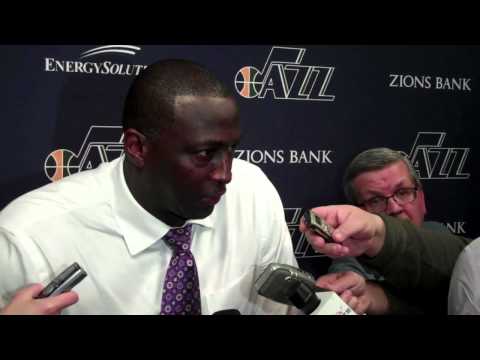 View 25 Items
Brandon Brown

For the second consecutive game, the Utah Jazz provided fans with a dramatic nail-biting overtime victory — this time over the Golden State Warriors.
With both teams depleted due to injuries to key players, Utah had just enough to emerge victorious, 99-92.
Fresh off a pair of trades last week, the Warriors have found themselves trying to assimilate new players on the run.
Favorable Circumstances: It was quite possibly the finest outing for sophomore forward Derrick Favors' young career. With Golden State playing their traditional small ball line-up, Favors took advantage and created the mismatch in Utah's favor (pun intended). After a then career-high 16 rebounds Thursday versus Minnesota, he bested that by one Saturday. He simply dominated the boards and was again a huge, imposing presence on defense.
Offensively, he played like a very seasoned veteran. He did not force things and was able to make play after play within the context of Tyrone Corbin's offense. He scored on a variety of powerful inside moves and nice jump shots, finishing seven of 13 from the field. A 60.4 percent free throw shooter, Favors was perfect against the Warriors, hitting all nine of his attempts — including the shot that tied the game at the end of regulation.
Chairmen of the Boards: For the second game in a row, Utah dominated the glass. With a vertically challenged rotation of David Lee at center and Richard Jefferson at power forward, Golden State simply could not match the height and physicality of the Jazz front court. Led by the aforementioned 17 caroms by Favors, Utah pounded the boards all night to outpace the Warriors 65-40. This was done sans leading rebounder Al Jefferson.
Also for the second consecutive outing, two other players corralled double-digit rebounds. Saturday saw remarkable rebounding by rookie Enes Kanter who collected 13 in just 20 minutes. The ever-consistent Paul Millsap also brought in 12 of his own.
Bench Brillance: As has been a staple for Utah all season long, the Jazz bench came through with some strong efforts. Jamaal Tinsley, filling in for injured teammate Earl Watson, was able to put in a season-high 13 points. His leadership sparked the whole second unit. While his assist totals were pedestrian, his shot was on from the perimeter.
Swingmen Gordon Hayward and Alec Burks were both able to get great, clutch-time minutes in the fourth quarter and the overtime period. Hayward had his regular all-around effort with 12 points, six rebounds, and four assists. His two-way play where he blocked the shot on one end and then hammered a dunk on the other was indicative of his tenacity and desire.
Burks had a ragged start, but settled in quickly, putting in nine points and collecting five rebounds. Slam Dunk champion Jeremy Evans was able to get some rare court time and chipped in five points and five caroms.
Kanter struggled with his shot, finishing short on some prime interior opportunities. But his defense and board work was integral to the game's outcome.
Odds n' Ends:
In five games this year where Tinsley earned 20 or more minutes, he is averaging 9.0 points and 7.6 assists per outing.
Utah's eight steals and seven blocked shots were evidence of the Jazz team's defensive fortitude.
David Smith is providing instant analysis for Deseret News' Utah Jazz coverage this season. He works for LDS Philanthropies and also blogs for the Utah Jazz 360 website. He can be reached at [email protected] or on Twitter at davidjsmith1232.