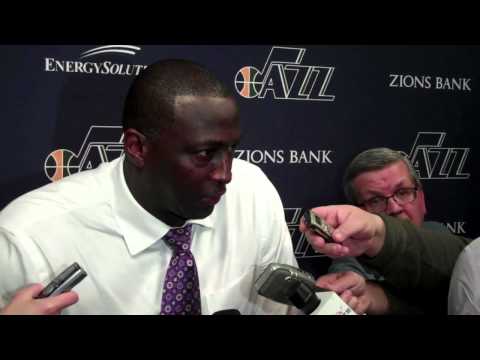 View 25 Items
Brandon Brown

SALT LAKE CITY — The Utah Jazz narrowly dodged a bullet on their home court Saturday night.
Utah tied its game against Golden State in the closing seconds of regulation, stopped the Warriors' potential game-winning shot, then staged a 12-2 scoring spurt in overtime to grab a 99-92 win at EnergySolutions Arena.
Derrick Favors, moved into the starting lineup when the team's leading scorer and rebounder, Al Jefferson, missed the game to attend his grandmother's funeral, responded with a huge 23-point, 17-rebound performance. Both numbers were career-bests for the second-year center/forward. He scored four of his points in Utah's decisive 12-2 surge in OT.
Paul Millsap scored Utah's last six points in overtime and wound up with 13 points and 12 rebounds. Jamaal Tinsley, also given more playing time due to the absence of Earl Watson (ankle injury), also had 13 points for the Jazz.
Gordon Hayward contributed a dozen points and a half-dozen rebounds, and Devin Harris had 12 points and five assists as Utah moved its season record back to .500 (22-22) with the win.
For Golden State (18-24), Nate Robinson scored 19 points, but had his shot partially blocked on a drive to the basket with time running out in regulation. David Lee had 18 points — 14 of those coming in the first half — and seven rebounds, Klay Thompson added 17 points and Dorell Wright contributed 13 points and 10 boards.
EMAIL: [email protected]