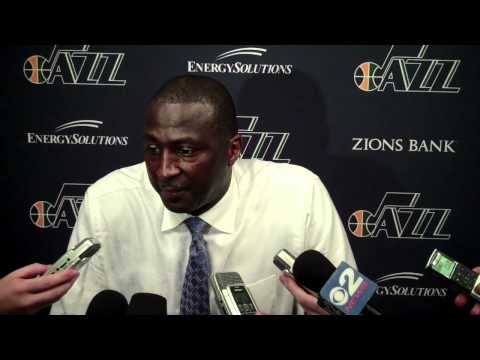 View 25 Items
Brandon Brown, Deseret News

Our team fought too hard to lose that game. I just wanted to be aggressive and see what happened out there.

—Forward Paul Millsap
SALT LAKE CITY — Hot Rod Hundley used to overuse one word — everybody say "pesky" together — to describe the Minnesota Timberwolves.
Al Jefferson used a different description for Paul Millsap after the power forward helped the Utah Jazz escape EnergySolutions Arena with a 111-105 overtime win that turned out to be challenging because of a certain team's peskiness.
"One word for Paul: 'Heart,' " Jefferson said of Thursday's goat-turned-hero. "He's just got a lot of heart. He don't give up."
Millsap, who's overcome odds his entire basketball life, never backs down from a challenge, either — even if it's one created partially by himself.
On the first day of March Madness, Millsap had an opportunity to win this game against the comeback-minded T-Wolves with a last-second layup that would've fit right in with the best of the NCAA highlights.
Nah, that wide-open shot at the rim would've been too easy for Millsap.
OK, the Jazz power forward probably didn't purposely miss a seemingly routine buzzer-beating alley-oop lay-in just to make the win trickier to come by..
That, however, is what happened, but Millsap made sure to capitalize on his shot at redemption.
In the overtime period, Millsap hounded the T-Wolves for three of his game-high eight steals, including one that led to a go-ahead slam dunk by leading-scorer Gordon Hayward (26 points) with 56.9 seconds remaining.
Fittingly, the Jazz fan favorite also hit the shot that all but wrapped up this win. Unlike the first potential game-winner, though, this attempt was from 19 feet, but it hit the bottom of the net instead of rolling off the rim.
That jumper gave the Jazz a four-point lead with 19.2 seconds remaining. Just for fun, Millsap followed it up by tapping the ball away from Kevin Love for his final steal of the night to prevent yet another comeback from a Minnesota team that erased the Jazz's 12-point lead with four minutes remaining in overtime.
"Our team fought too hard to lose that game," Millsap said. "I just wanted to be aggressive and see what happened out there."
Millsap waved his arms in the air, prompting the 18,053 fans to cheer even louder after hitting the clutch jumper late in overtime.
A form of cheering followed Millsap into the locker room after his near-triple-double night, which included 16 points, 11 rebounds and his career-high eight steals.
"Anybody, including me, would've just felt sorry for myself when you miss a point-blank layup that went in and came out at the end of the game that could've won it for you," Jefferson said. "But not Paul."
Millsap also helped hold Love to two overtime points after the All-Star power forward had 23 of his 25 in regulation.
"To stop (Love) in overtime, it's all heart to me," Jefferson added. "It's an honor to play beside him (Millsap)."
Millsap said he wasn't quite sure what happened on that botched layup attempt. The inbounds pass with 0.7 seconds remaining was spot on.
"It just rimmed out on me," he said. "It was a great screen, great pass. Everything was executed well. I just tricked off the layup."
Like Jefferson, Jazz coach Tyrone Corbin said the overtime session was a testament to Millsap's character.
"He showed true, true professionalism and toughness," Corbin said. "It was a tough break in missing the shot . . . but the overtime performance, getting his hands on balls, making the big shot right there at the end at the free-throw line, he just showed who he is. He's a tough competitor."
Fortunately for the Jazz, they had a bunch of players who also proved to be tough competitors on this night as they bounced back from a rough loss in Phoenix on Wednesday.
Hayward led the way, again playing very well off the bench with his game-high 26 points on 9-for-17 shooting.
Point guard Devin Harris bounced back from not playing the entire fourth quarter in Phoenix to score 18 points, rookie Alec Burks made the most of a rare appearance of late with 15 points and Derrick Favors grabbed a career-best 16 rebounds.
"It is do or die time for us, especially trying to make the playoffs," said Millsap, whose team improved to 21-22 just behind the 22-22 T-Wolves. "We're right there, were straggling the line right now."
GAME NOTES: Jazz swingman C.J. Miles dressed but didn't play because he was sick with hay fever. … Jefferson left Thursday night for Mississippi to attend the funeral of his late grandmother, who passed away Sunday. He will miss the Jazz's two games this weekend and rejoin the team Monday. … Utah won the potentially important tiebreaker with the T-Wolves, taking the season-series 2-1. … Six players scored in double figures for Utah, which blew an 18-point lead in a loss at Minnesota last month.
Email: [email protected]
Twitter: DJJazzyJody