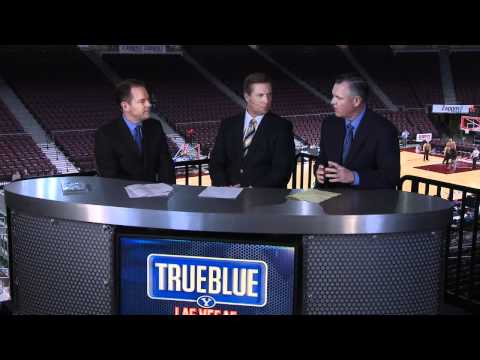 byutvsports
BYU's men's basketball team had a tough showing last Saturday against Gonzaga, which firmly put the Cougars on the bubble to get into the NCAA Tournament. For BYU fans, this week will be an anxious one, as some teams may ruin BYU's chances to get into the Big Dance.
BYU fans can find out everything they need to know about this weekend's games and what they should be looking for as other conference tournaments get underway.
This BYUtv video shows Steve Cleveland and Blaine Fowler breaking down the scenarios on how BYU can still make the tournament, and how they may be knocked out. They also discuss BYU's resume and give their confidence level of the Cougars getting invited to the dance.
Fans can find out whether BYU will make the Big Dance this Sunday at 4 p.m.
VIDEO: Will the Cougars make the Big Dance?
BYUTV's Dave McCann talks about the BYU men's basketball chances of making the Big Dance with analysts Steve Cleveland and Blaine Fowler.
Contact Gregory Rose at [email protected] or follow him on Twitter at @GRoseDDM