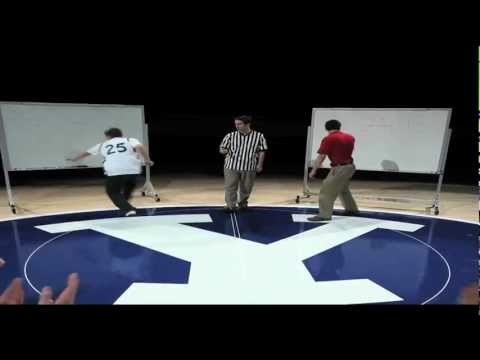 View 3 Items
BYU News

After the basketball players left the Marriott Center at Brigham Young University one night, the lights stayed on for the filming of one of the school's regular promotional videos. And though the YouTube hit may look like Jimmer Fredette will come out palming the ball at any second, these stars only take one thing to the table — a pencil.
This time it's mathletes, not athletes, who are the focus. The spot features three students donning Brigham Young jerseys and an opposing team in red, with whiteboards at the ready. The rap cleverly beats in the background with lyrics like, "Don't try to keep up once the math race gets going. When you're half-way done, they'll be already Tebowing," and "Jumpers and dunks ain't the skills that they study. Instead it's polynomials they factoring, buddy."
The video asks the question "What if star students were treated like star athletes?" and gives attention to a well-deserved trio.
BYU mathletes Sam Dittmer, Hiram Golze and Robert Yang have dominated in recent competitions. They crushed the University of Utah 159-70 last fall and placed third in a national competition where they beat competitors from Duke, Yale and Vanderbilt, according to a university press release.
Now the three are anticipating the results of math's own version of March Madness, the William Lowell Putnam Mathematical Competition, comprised of a six-hour contest between more than 400 universities.
Things are looking good for the team. Last year Golze, Yang and the now-graduated Michael Griffin made it to the Sweet 16 — a feat not realized since 1979. In 2009, Dittmer helped the team to the Top 25 in the Putnam. Now he's back from his two-year LDS mission in Albania to lead the team to victory.
The video also highlights Dittmer's history, with a scene of Dittmer seated behind a table with baseball caps from MIT, Stanford and BYU.
"Took his talents to Provo over Stanford and MIT," said the lyrics. "His range of integers goes to infinity."
Dittmer picks the BYU hat and flips the table over on the video, referring to his pick in 2008 to go to BYU although he had as much as a $25,000 offer from Stanford.
The video also scored a mention on the Washington Post blog, Campus Overload.
"Having a powerhouse sports team has been a way for the university, which is owned by The Church of Jesus Christ of Latter-day Saints, to show the world that it has a lively student culture on campus — even if it is a counter-cultural one mostly lacking caffeine, booze, pot and one-night-stands," wrote blogger Jenna Johnson. "And so it's no surprise the university is using that athletic reputation to show off its academic accomplishments and recruit future math whizzes."