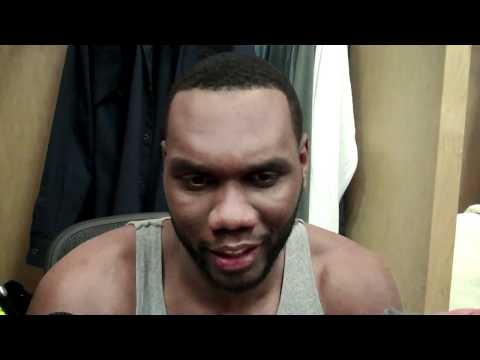 View 30 Items
Brandon Brown, Deseret News

I tell you what, man. This is a great, great win for these guys. They did a great job of hanging in there.

—Jazz coach Tyrone Corbin
SALT LAKE CITY — The crowd was going wild, time was running out, the expected double team came and then, with the game's outcome on the line, an almost stunning pass was made.
Devin Harris nearly couldn't believe it.
For that matter, neither could many others inside ear-splitting EnergySolutions Arena.
And, no, this isn't about LeBron James passing up a game-winning attempt to Udonis Haslem.
That was astonishing, sure.
But the bigger surprising play — and the one that lifted the Utah Jazz to a shocking 99-98 win over the Miami Heat — came seconds before when Al Jefferson defied his self-proclaimed "Black Hole" ways and wisely hurled the ball out of a double-team and into his point guard's hands.
Harris faked James out of his way, surged into open territory and floated a successful game-tying shot into the bottom of the net while being fouled in the lane by Dwyane Wade.
Harris pounded the floor and then hit a clutch free throw with 4.5 seconds remaining to give the Jazz a lead that survived James' 17-point fourth quarter, his ensuing generous pass and Haslem's subsequent game-ending 18-foot miss.
Harris spiked the ball, jumped into Earl Watson's arms and the arena exploded into a playoff-like celebration.
"I tell you what, man. This is a great, great win for these guys," Jazz coach Tyrone Corbin said after his team secured a second straight home win over a quality opponent. "They did a great job of hanging in there."
The final two possessions were just a couple of surprising moments in this thriller, which improved Utah's record to 17-18 heading into a five-game road trip that starts tonight in Dallas.
A fired-up Utah squad, one game removed from a four-game losing streak, jumped on Miami early. The Jazz starters and reserves hustled, scrapped, executed and gave their all on defense while building an almost-unthinkable 18-point lead against a Heat team that had won its previous nine games by a double-digit average.
"Especially with a team like this, you've got to hit first," Harris said.
And that, they did. The Jazz — sparked by standout performances from Enes Kanter (11 points, seven rebounds), C.J. Miles (14 points) to Big Al (20 points) and on down the roster — held a 74-56 advantage with less than four minutes remaining in the third quarter.
"As a team, they came out and were getting to all the loose balls, jumping quicker than us and getting to all the right places," Wade said. "They played very well, especially early. We knew they were a good home team, and they just came at us and brought their 'A' game early on."
Thanks to Wade and James — shocker — the Jazz needed everything they gave to eke out this victory.
James poured in 17 of a game-high 35 points during the fourth quarter and Wade had 18 of his 31 points in the second half as the Heat turned that 18-point deficit into a three-point lead on a crazy LeBron shot from 23-feet out with 26.1 seconds remaining.
To everybody's surprise, James only set up some late-game heroics for the home team.
Jefferson got the Jazz within one on a putback tip with 20.6 seconds remaining, and then Wade opened the door by splitting a pair of free throws with 14.0 left.
As most figured they would, the Jazz went to Jefferson on the post after a timeout. He was quickly collapsed on by Miami's stifling defense, but he had a surprise in store for everybody.
"When I passed it to Devin, he gave me a look like, 'Why are you passing it for?' And then he attacked and got the three-point play," Jefferson said, smiling. "I asked him why you look at me like that? He said he thought I had a chance to go on and score the ball."
Harris made the place go bonkers after he lofted in a 12-foot bucket despite not being able to see the hoop because of Wade.
"I just tried to make a play the best that I could," Harris said. "I gave (James) a pump fake and was able to get to the lane and hit a tough shot."
Corbin liked the Jazz's chances in that final offensive possession, whether Jefferson took the shot or whether he found someone else open after the Jazz spread the floor.
"If he could get a one-on-one situation there was a good chance for us to make the basket," Corbin said. "(Jefferson) did a great job of kicking it to Devin and Devin did a really good job of seeing the gap, attacking the seam and made a great floater."
The Jazz then made their coach extra proud by making it tough on the Heat on the other end to seal the win — first by Josh Howard blanketing James with Paul Millsap's help, and then with Harris making Haslem shoot an off-rhythm jumper.
"We knew when we got up 18 it wasn't over. It was far from over," Jefferson said. "We knew they've got two superstars on their team that know how to win. They've been winning their whole career. We just had to stay together."
Jefferson called it the Jazz's "top win" up to this point.
"It was a big win. It's not only that we beat the Miami Heat. It was more that we stuck together and we didn't give up," Jefferson said. "We won a tough game. There's been a lot of games where it went the opposite way—we lost. To see one go in our favor, it really mean a lot, especially to go on the road with."
Corbin couldn't stop smiling after the victory in which the Jazz outrebounded the Heat 50-32 and outplayed the NBA favorites when it mattered most.
"They made big shots. But our guys, I can't say how proud I am of these guys of just staying in there and not getting their head down," Corbin said. "They continued to fight and fight, and as a result they made a big play at the end. And Devin made a big shot for us. Great team win for us."
Email: [email protected]
twitter: DJJazzyJody