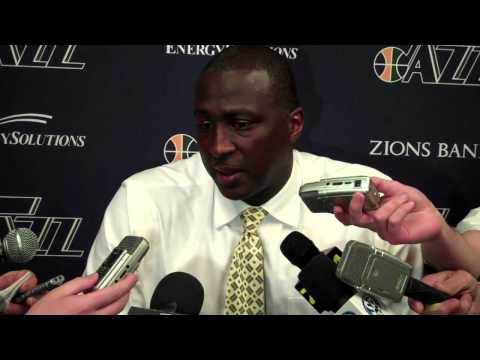 View 28 Items
Brandon Brown, Deseret News

We really needed it. You always need a win on your home court. You never want to lose. Come out, play hard and get our confidence back.

—Utah forward Jeremy Evans
SALT LAKE CITY — Gov. Gary Herbert declared Wednesday to be Jeremy Evans Day in Utah.
C.J. Miles, Devin Harris and most of the available Utah Jazz players did all they could to get the governor to make a resolution amendment to get their names associated with Feb. 29 as well.
The Jazz played their best game in quite some time, snapped a four-game losing streak and finally finished off an opponent in a 104-83 blowout win over the Houston Rockets.
"We just came out aggressive and played hard. That's the biggest thing," Miles said. "We just knew we had to find a way to step on a team's throat."
If you read between the lines, the Jazz were tired of the opposite scenario happening as it had so many times while they lost 11 of 14 games prior to Wednesday's contest at EnergySolutions Arena.
It didn't look promising for Utah early on against this tough 21-15 Houston team. The Jazz only scored 18 first-quarter points, and trailed by eight going into the second period.
But something clicked — something that begins with a D, Jazz coach Tyrone Corbin pointed out — and the Jazz roared into the break with a five-point lead after a dominating 31-18 second quarter.
The Jazz then showed the "killer mentality" Corbin talked about his team needing to develop prior to the Sacramento setback, and an inspired-yet-undermanned Utah squad put its basketball shoes on the Rockets' necks the rest of the way and didn't let Houston come up for air.
"Our defense picked up a little bit," Corbin said, referring to the turnaround in the second quarter. "We did a great job on the pick-and-roll. They tried to get a little physical with us and we matched that and actually took it up a level. As a result of our defense picking up, our offense was a lot more fluid."
Nobody was as smooth on this night as Miles (27 points) and Harris (19 points).
One of his better games in a Jazz uniform was cut short late in the third quarter due to nausea, but Harris' aggressive attitude keyed Utah's offensive attack. The oft-maligned point guard hit his first six shots and had the Jazz offense purring nicely and keeping the Rocket defenders off-balance during his limited 22 minutes.
"If he pushed the ball the way he did tonight," Corbin said, "then we're a much better club."
Corbin believes Harris has done a better job of "feeling out" his teammates and the coaching staff recently, which has led to him playing some of his best basketball since joining the Jazz a year ago in the Deron Williams trade.
"He's continuing to get better," Corbin said. "We're going to need him to continue to grow four us to have a chance to win."
Utah's chances of success will skyrocket if the team continues to get wing production like it had Wednesday in improving to 16-18.
Miles had his second straight double-digit outing and his first 20-point game since Sacramento visited on Jan. 28, giving the Jazz a huge boost off the roomy bench. The swingman showcased what he does best in the flow of the offense, both driving and shooting from outside in rhythm while hitting 3 of 7 from deep.
Corbin credited Miles for giving the Jazz a "tremendous lift" during his best offensive output of the season.
As a bonus, fill-in starting small forward Josh Howard added 14 points with seven rebounds and starting shooting guard Gordon Hayward added 10 points.
"When we get scoring from the perimeter guys, it makes our offense flow a lot better," Corbin said. "As long as we continue to get guys making shots, we're in good shape. C.J. did a good job for us tonight."
So, too, did the high-flying man of the hour.
Not only did Evans get honored by the Guv, but the second-year forward also saw some rare and extended playing time because of the absence of Paul Millsap (bruised left heel).
After receiving his 2012 NBA Slam Dunk Contest trophy and having a declaration read in his honor prior to tipoff, Evans went out and had two impressive dunks — one over runner-up dunker Chase Budinger — along with three blocks and seven rebounds in a season-high 22 minutes and 26 seconds.
All the better for him that his efforts contributed to a win.
"We really needed it," Evans said. "You always need a win on your home court. You never want to lose. Come out, play hard and get our confidence back."
Al Jefferson added 14 points and picked up a team-best 10 rebounds helping the Jazz outboard the Rockets 50-34.
Utah also shot a perfect 16-for-16 from the free-throw line after going 11-for-22 in the 103-96 loss to the Kings the previous night, showing how focused the Jazz were on getting this victory.
"I think it was all Devin," Jefferson said. "He was a one-man fast break tonight. We got behind him. Unfortunately, he had a little stomach problem, but I think he set the tone from the beginning, especially after the first quarter. We realized that's what we needed to do against that team."
GAME NOTES: The Jazz played without Paul Millsap (bruised heel), Raja Bell (strained adductor) and Jamaal Tinsley (stomach flu). … Forward DeMarre Carroll got his first action since being acquired by the Jazz on Feb. 8. He also got his first bucket and had two rebounds. … Utah improved to 9-2 when holding opponents under 90 points.
EMAIL: [email protected]
TWITTER: DJJazzyJody