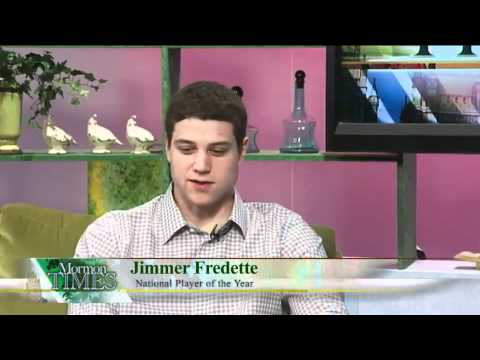 View 16 Items
YouTube

Editor's note: This is an excerpt from "Life Lessons from Mothers of Faith" published by Covenant Communications. Click here for more excerpts from "Life Lessons from Mothers of Faith."
If there is such a thing as a conventional LDS family, mine was certainly not it.
My father joined the church when he was 18, along with his brother Dennis and sister Bonnie. He has been very active and has served in many church callings throughout his life, including everything from being a counselor in the bishopric and Young Men organization to serving as a ward mission leader. My dad is both devoted and faithful.
My mother is also devoted and faithful, but it just so happens that she's Catholic.
My mom's dad, Clint Taft, was somewhat of a local legend in Whitehall, N.Y., a small town about a half-hour south of Lake Champlain near the New York–Vermont border. He taught physical education for nearly 40 years and also coached football, basketball, baseball and track. He later became principal prior to his retirement. His influence on my mom is unmistakable. They were very close, and it's obvious that he taught her a great deal about hard work and always putting forth her best effort.
My mom also inherited his athleticism because she was also quite a good athlete. Although at Whitehall High School, girls team sports were not available in her day, she was a very good tennis player, and after graduating, she played on a women's softball team. When I was at BYU, I would come home on breaks and practice shooting in our backyard. We spent many long hours together as she would rebound my shots and pass the ball back to me. After I finished my practice, she would shoot a hundred free throws on her own.
My mom earned a teaching degree from the College of St. Joseph in Vermont. She taught elementary school, mostly as a substitute teacher, because it allowed her the flexibility to be at home and be a mom. It wasn't until I went to college that she went to work outside the home. But even in her years at home with us, she was a good teacher, helping us plan for our futures and instructing us well.
My father and mother met in Whitehall. When my mom and dad announced their intentions to be married, my grandparents were not happy. They knew little about the LDS Church, and what they had heard was not very good. From what I understand, Mom had quite a confrontation with her mother because she wanted their grandchildren to be brought up as Catholics.
It wasn't that my mom was rejecting her faith and heritage. My dad was a good man to begin with, but she knew his religion helped make him an even better man, teaching him such characteristics as honesty, morality and kindness. She also knew instinctively that with all the programs focused on teaching kids the gospel, having her kids grow up in the LDS faith was simply the best thing for us. She wanted us to learn about Jesus Christ and all he did for us. In her mind, the LDS faith was the best option. To my mom's great credit, she stood up to her parents and said, no, this is how it's going to be. Eventually, my grandparents accepted it, and it hasn't been an issue since, but it illustrates just how courageous and determined she is.
I am the youngest of three siblings, including my older brother, TJ, and my sister, Lindsay. My real name is James, but because my mom has several family members with the name "Jim" or "James," she made up the name "Jimmer" as a way to differentiate among us.
As long as anyone in our family can remember, she has always called me Jimmer, and she made sure my teachers and friends called me by that name too. If she ever heard anyone call me anything but Jimmer, she would get after them and say, "His name is Jimmer … call him Jimmer!" Sometimes my name can be a pain, like when I'm ordering food at a restaurant and they keep asking me my name. After I repeat it a few times, they usually get it. Frankly, though, I really don't mind the inconvenience. I like my name. It's unique, and I'm glad my mom thought of it.
When my grandpa coached sports, my mom was always there by his side. If you think of the little girl in the movie "Remember the Titans," that was her. She was always on the football field and usually had her pictures taken with the team. Both as a coach and a teacher, my grandfather often dealt with bullies and their victims. Because my mom was often around, observing what was going on, having those experiences further developed my mom's sensitivity to bullying. This became an important matter to my mom, as she constantly emphasized the importance of being kind, courteous and aware of what other people are feeling.
My mom was always reminding me and my brother to write thank-you notes to people who helped us out. We didn't always follow through, despite her constant reminders, but she was so adamant about writing thank-you notes that it became somewhat of a family joke.
Growing up, I was usually bigger than most of the other kids my age, but because my mom had taught me the golden rule, I had no inclination to use my size to intimidate others, and she made it very clear to me that gaining a reputation as a bully was probably the worst thing I could do.
But she also took it a step further, teaching me to keep an eye out for people who were teased and encouraging me to go to their rescue if necessary. She taught me to never judge people who were different.
On one occasion, I tried to help a kid who was being teased at school. I was a team captain and we were choosing teams for a game. Trying to remember what my mother had taught me, I chose this kid first on my team. He wasn't the best player, and everyone knew it, but suddenly, everyone began to treat this kid like he was their friend. Later that day, my teacher dropped by my house to tell my mom about the incident. My mom later took me aside and told me how proud she was of me and that I had made a big impact on that kid. It was a great lesson to learn, and I credit my mother for teaching me to have compassion for others. I would have never learned it without her great example.
When it comes to similarities, my mother and I are very much alike in that we don't like people making a fuss over us. It's obviously a lot harder for me, given my chosen career, but my mom is very shy and hates being in the limelight. I remember when I was nearing the end of my career at BYU, many of my teammates had never met my mom. Most of them didn't know who she was and certainly weren't aware that she had been to almost every home game throughout my college career. They all knew my dad; he was always out front, interacting with the players and joking around with them. My mom, however, chose to remain in the background and out of view.
During the NCAA Tournament, the television cameras would often show my family when something dramatic happened. Inevitably, they could find my dad or my brother, TJ, but my mom learned to sit as far away as possible from them because she didn't want to be on camera. She was always content with being at home, doing her thing with our family and her friends. When she's with our family and close friends, she is very charming and charismatic, but she simply prefers to avoid the spotlight.
I am grateful to my mom. I hope I can follow her example and live up to her high expectations. It's the least I can do to show how much I love and appreciate her.
(Taken from the book, "Life Lessons from Mothers of Faith.")