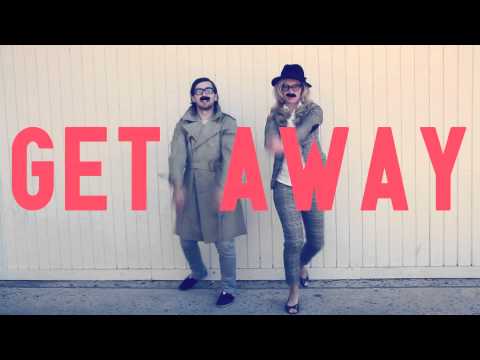 View 9 Items

The first show Jack Matranga and Brooke White played together was during the summer of 2011 in Rexburg, Idaho. On Feb. 24, they returned to the small college town on a short tour.
More than 200 people, mostly college kids, packed themselves into the back room of Sammy's caf and shake shop, while Calee Schroeder and Benton Paul opened up for the duo.
White garnered national attention in 2008 when she appeared on "American Idol." A year after the show, she released a solo album. She met Matranga, a fellow singer-songwriter, last year and started working with him on new material for a follow-up.
She said they did not plan on forming a duo; it just happened organically.
"We never meant on making a new band," White said. "He was just helping me write songs, and before we knew it we were talking about playing shows and putting out an EP."
During the show, Matranga's clear tenor voice blended and harmonized with White's emotion-laden mezzo-soprano and made it easy to understand why they decided to make it official.
Since they started working together, the pair released an EP in August and another in January and went into the studio this week to start on a covers EP. Besides her work in writing, recording and touring, White also has a baby due in May. After she takes a brief maternity leave, she said she and Matranga plan on going back into the studio to record a full-length album, which they aim to release in early 2013.
While the contents of their covers EP remain a secret, White said they would be covering material from a variety of influences. Jack and White did perform Fleetwood Mac's "Dreams" in the middle of their hour-long set. White did have to preface the song for the audience, which was mostly 10 years her junior, by saying, "You might have heard this song. Your parents definitely have. But if you have, feel free to sing along if you know the words."
White said, "I love to perform 'Night After Night.' It's just got a groove that's easy to get into. Like Sunday morning."
Other band favorites include "Telephone Games," which White said "has so much emotion, it can get tough to sing"; and "XYZ," which Matranga and White agreed is musically more mature than most of their other songs.
In a small venue like Sammy's, the whole experience is more intimate than bigger settings. For the jangley "Feathers," Matranga took an acoustic guitar, White snatched up a tambourine and they taught the audience a little sing-along. You could see White's face light up like a ray of sunshine every time she made eye contact with people in the crowd singing. The giant sunburst on the back wall and soft amber light helped cement the analogy.
Juxtapose that with the hauntingly cold wintery feel of "Voices" and you can get a feel for the duality that White said their music is all about. Matranga and White are both Gemini (hence the name of their first EP), and while White said she does not put much stock in the zodiac, when Matranga explained to her a little of the two-sided nature of Gemini, she said it struck a chord with her. Literally.
"There's just something in music that brings out that other side of me," White said. "I'm normally a pretty lighthearted person."
Songs like "Gemini" and "Smoke and Mirrors" showcase the more melancholy side of that duality, while "Double Trouble" highlights the more easygoing side. White said she sees more of that duality in her life the more she looks, most obviously between her background in The Church of Jesus Christ of Latter-day Saints and her chosen profession in the entertainment industry.
An hour after Matranga turned up the reverb on his amp and they hit those first chords, Jack and White, along with drummer Adam Culvey, played through everything they have released so far, as well as a little more, and left no fan discontented, but still wanting more.
Anyone interested in more can find them on Facebook, Twitter or jackandwhite.com
Double Trouble: Jack and White perform in their official music video for "Double Trouble" off their debut EP "Gemini." Video is directed by Summer Bellessa.
Paul Siddoway is a musician and blogger in Cache Valley. He can be reached at [email protected]