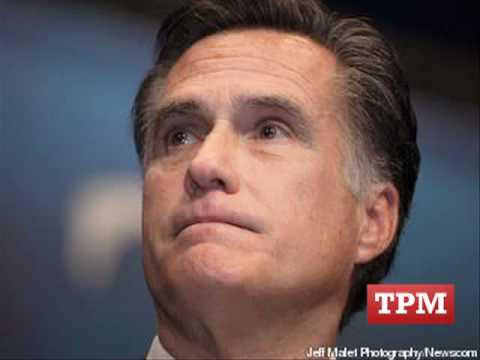 View 18 Items
Youtube

I think for the overall good of the country, his background is what we need.

—Kathy Babak, voter
NOVI, Mich. — Mitt Romney's GOP presidential primary wins Tuesday in Michigan and Arizona were labeled a "moral victory" by one of his key advisers, former Utah Gov. Mike Leavitt, who said the campaign is ready for the battles ahead.
Michigan, where Romney grew up and his father was a popular governor, was seen as critical in his battle for the Republican nomination after a tough challenge from former Pennsylvania Sen. Rick Santorum.
Although the race was close, Romney's promise to bring his success in business to Washington overcame Santorum's blue-collar roots and conservative stands on social issues.
"It's a strong finish," said Leavitt, who has traveled with Romney throughout the campaign and was headed to Boston to help plot strategy for next week's Super Tuesday races.
But with Santorum's recent surge, the campaign remains resigned to a long, drawn-out battle for the GOP nomination, Leavitt said, acknowledging new candidates may get into the race.
Some of the possibilities mentioned include former Florida Gov. Jeb Bush and former vice-presidential candidate Sarah Palin. Leavitt said it would be difficult for them to win enough delegates to secure the nomination.
Santorum, was already campaigning in Ohio, one of next week's states, when the verdict came in from Michigan. Newt Gingrich and Ron Paul, made little effort in either Michigan or Arizona, pointing instead to next week's collection of contests in all corners of the country.
Leavitt said the Romney campaign is ready for whatever comes.
"When you have a disappointment in politics, you have to recalibrate the plan," the former member of President George W. Bush's cabinet said. "There are going to be some turnovers. The other team is going to score."
Borrowing a line from former Utah Jazz coach Jerry Sloan, Leavitt said the campaign has to "play forward" and focus on the upcoming Super Tuesday races and beyond.
Returns from 99 percent of Michigan's precincts showed Romney at 41 percent and Santorum at 38 percent. Paul was winning 12 percent of the vote, and Gingrich, 7 percent. In Arizona, with votes counted from 88 percent of the precincts, Romney had 47 percent, Santorum 27, Gingrich 16 percent and Paul 8 percent.
With his victory in Arizona, Romney had 152 delegates, according to the Associated Press, compared to 72 for Santorum, 32 for Gingrich and 19 for Paul. Michigan's 30 delegates are apportioned according to the popular vote. Two were set aside for the winner of each of the state's 14 congressional districts. The remaining two delegates were likely to be divided between the top finishers in the statewide vote. It takes 1,144 to win the nomination at the Republican National Convention in Tampa next summer.
Romney focused on President Barack Obama in his victory speech, delivered in this Detroit suburb near his hometown. "Times are tough," he said, and they call for leaders who will "get the economy back on track."
He said there is still belief in "the hope and the dream and the promise of America" and he promised to take his message of a brighter future "to every corner of this country."
Romney was hurt in Michigan by his continued opposition to the auto bailout backed by Obama, seen by many in Michigan as saving jobs and saving the state from financial ruin.
And he repeatedly made comments on the campaign trail that were used to portray him as out of touch with voters who didn't share his privileged background and personal wealth.
"Michigan was hit pretty hard and we have a lot of people who think the auto bailout was a good thing," said John Nixon, Gov. Gary Herbert's former budget director who now holds a similar post under Michigan's GOP governor.
The state's voters who turned against Romney, he said, were upset with his call for the big automakers to go into bankruptcy rather than take billions in federal tax dollars.
"I don't know that it's so much a pro-Santorum sentiment," Nixon said. "There's a real pride in the auto industry. The stance (Romney) took, I think, is what's hurting him. And the attacks that he can't relate."
Romney has stumbled in some of his attempts to reach out to voters, for example listing the American-made cars he and his wife, Ann, drive, including her two Cadillacs.
"It shows a lack of the common touch," Michigan State University political science professor Paul Abramson said. "A touch that's going to appeal to working-class voters in a state like Michigan."
Abramson wasn't impressed by Romney's choice of Detroit rocker Kid Rock to perform at his final campaign rally in the state Monday night. Rock's song, "Born Free" has been adopted as the campaign's anthem.
"That doesn't seem very authentic," Abramson said. "I would be surprised if he knew who Kid Rock was, let's put it that way."
Earlier Tuesday, in Dearborn, pre-school teacher Lois Gueli had an "Obama 2008" campaign button pinned to her purse when she voted for former Santorum in Michigan's primary election Tuesday.
"I wanted to make sure when I walked in, people knew what my feelings were," Gueli said, describing her vote as part of a national effort by Democrats to weaken the Republican field.
Gueli said she doesn't like Romney because he helped turn around the 2002 Winter Olympics in Salt Lake City "but didn't want to bail out our auto industry." And she called his recent reference to his wife's two Cadillacs offensive.
Santorum offended her when he said he said he "almost threw up" reading a speech by then-candidate John F. Kennedy about the separation of church and state, a landmark address intended to calm concerns about Kennedy's Catholic faith.
"I didn't eat before coming here and casting my vote this morning because I didn't want to throw up," Gueli said. She said she was encouraged by friends to participate in what's being called "Operation Hilarity," expected to continue into other states with open primaries and caucuses.
Santorum, though, urged Michigan Democrats to support his campaign through an automated telephone call. He told reporters Tuesday he did it "to prove the point we can attract voters we need to win states like Michigan."
Romney condemned the calls as "a dirty trick" on Fox News. "We don't want Democrats deciding who our nominee is going to be, we want Republicans deciding who our nominee is going to be," he said.
Abramson said it's not clear what impact the crossover votes will have on the election.
"I don't think that will be all that effective," the professor said. "But given that there isn't any meaningful (Democratic) primary here, there will certainly be Democrats voting."
The only potential drawback to Democrats participating in the GOP primary, he said, is that their votes will be a matter of public record for two years.
Other voters at a branch of the Dearborn public library located just down the street from Ford's gleaming headquarters said they voted for the candidate they want to win.
Mary Corey, a retired stenographer for Ford, said she went with Romney.
"I'm praying he does well," she said. "He's more for the economy and what's happening here and not the social," she said, referring to Santorum's emphasis on his conservative stands on social issues.
Kathy Babak said she voted for Romney, too.
"I think for the overall good of the country, his background is what we need," the homemaker said. But she said she likes Santorum's family and conservative values even though they might be too strong for some voters.
William Pignonelli , a retired teacher, said he voted for Ron Paul because of his stand on shrinking the federal government.
Both Paul and the other GOP candidate still in the race, former U.S. House speaker Newt Gingrich, are see as having little chance of winning delegates in Michigan.
Pignonelli said he didn't like the way Romney and Santorum were campaigning.
"I've been inundated with calls," he said. 
"I don't like the fact that Romney was opposed to bailing out the auto industry. And Santorum's religious beliefs were a little stringent for me."
Contributing: Associated Press