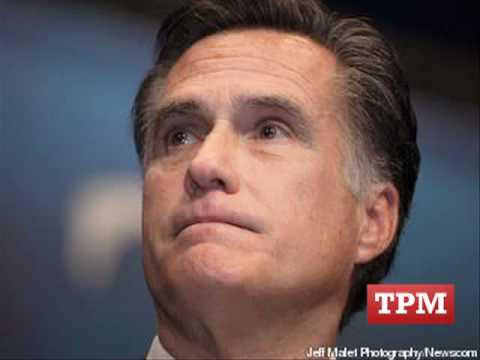 View 2 Items
Youtube

» View our political blog, with live updates and analysis of the GOP presidential nomination process.
In an effort he is calling Operation Hilarity, liberal filmmaker Michael Moore told Rachel Maddow that he is urging Democrats to vote for Rick Santorum in Michigan Tuesday.
Operation Hilarity was launched by Markos Moulitsas of the Daily Kos. "It's an opportunity for Democrats to actually help prolong this election a little bit longer because we've seen that the longer this drags out, the worse it is for Mitt Romney and Rick Santorum and the best it is for Barack Obama," Moulitsas told Keith Olbermann.
Meanwhile, confusion and tension reigned after Rick Santorum's last-minute direct appeal to Democrats to flood the polls in this open primary and tip the election in his favor.
The left-leaning Talking Points Memo expressed the confusion, noting that any of three scenarios might have explained the call. TPM, noting the ad could have been a "false flag" effort, designed to embarrass Santorum and create a backlash, contacted the Santorum camp to confirm its ownership.
"Bill Ballenger, a longtime Michigan politico and the editor of Inside Michigan Politics, spoke with TPM about the call earlier in the day. He said the call piqued his interest because it sounded like it could have come from a union targeting Romney ahead of the Feb. 28 primary," TPM reported.
"It went on and on like this and I kept listening because I kind of smelled a rat," Ballenger said. "And finally at the very end, in a tagline it says, 'this call was paid for by the Santorum for president committee.'"
The confusion is understandable, because efforts to sow chaos in the GOP primary have gained traction. Democratic strategist Joe DiSano wrote a piece for the Huffington Post on Friday urging Democrats to get out and vote for Santorum. "Santorum matters little on Tuesday. He is only a convenient vessel to embarrass Romney on the national stage," he wrote.
TPM has the audio of the Santorum call, with a man's voice "Michigan Democrats can vote in the Republican primary on Tuesday. Why is it so important? Romney supported the bailout for his Wall Street billionaire buddies, but opposed the auto bailouts. That was a slap in the face to every Michigan worker, and we're not going to let Romney get away with it. On Tuesday, join Democrats who are going to send a loud message to Massachusetts' Mitt Romney by voting for Rick Santorum for president. This call is supported by hard-working Democratic men and women and paid for by Rick Santorum for president."
The message is crafted very carefully, because Santorum also opposed the auto bailout. The distinction he draws is that he opposed all bailouts, including the TARP bailout in 2008, whereas Romney supported the latter.
Romney called the ad a "dirty trick" on a Fox News interview. "It's outrageous to see Rick Santorum team up with the Obama people and go out after union labor in Detroit and try and get them to vote against me. Look, we don't want Democrats deciding who our nominee is going to be, we want Republicans to decide who our nominee is going to be," Romney said.
Santorum's move on recruiting Democratic votes is a high-stakes gamble that runs the risk of delegitimizing any victory he might achieve. If the votes can be spun as Reagan Democrats who might stick with Santorum in November, that's one thing. But if they are understood as strategic chaos from union members and Democratic activists who see Santorum as a GOP debacle in the making, that would be quite another.
The latest polls in Michigan show a statistical dead heat, though Romney holds an advantage among those who have already voted.