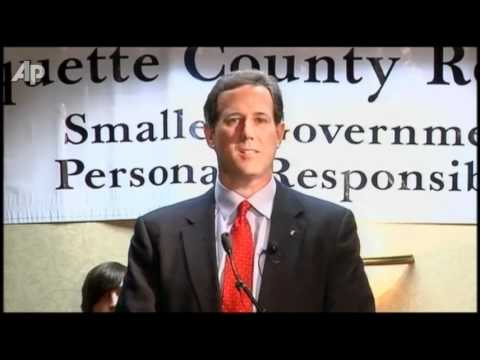 View 6 Items
YouTube


We know the basic beliefs of their family, and the background from which Mitt came. We have 100 percent belief in Mitt.

—Nancy McIntyre
» View our political blog, with live updates and analysis of the GOP presidential nomination process.
BLOOMFIELD HILLS, Mich. — Nancy McIntyre enthusiastically declared her support in Michigan's GOP presidential primary Tuesday for Mitt Romney, who grew up in this affluent community.
"You bet. Yay, Mitt!" McIntyre said, pulling her plush coat tighter against the chill in the tree-shrouded parking lot of the LDS Church stake center where Romney's former ward meets, next door to Michigan's only Mormon temple.
McIntyre said after she and her husband, a retired stockbroker, converted to Mormonism years ago, they socialized with Romney's family, including his father, the late former Michigan Gov. George Romney.
"We know the basic beliefs of their family, and the background from which Mitt came," McIntyre, a native of nearby Royal Oak, said. "We have 100 percent belief in Mitt."
Still, McIntyre said she could support Romney's current chief rival for the Republican nomination, former Pennsylvania Sen. Rick Santorum, should he emerge as the party's choice to face President Barack Obama in November.
"They're so close in principles of belief," McIntyre said of Santorum and Romney. "If Santorum wins, we're behind him 100 percent. I hope people who are behind Santorum feel the same way about Mitt."
Romney and Santorum are waging a bitter battle for Michigan voters in a race seen as too close to call. After trailing behind Santorum for much of the month, Romney now has a slight edge in most polls.
Former Utah Gov. Mike Leavitt, who will appear with Romney at rallies in two Michigan cities Monday, said voters have to decide whether fixing the economy is the most pressing issue this election year.
If it is, Leavitt said, then Romney clearly has to be their choice. Santorum has campaigned mainly on his conservative stands on social issues, especially his opposition to abortion.
"Mitt Romney got into the race because he believes the government is too large, spending is too much and it needs to be turned around," Leavitt said. "When he talks about those things, he does well."
Romney has run into trouble, however, with comments that are being portrayed as demonstrating he is out of touch with those who don't share his privileged background and professional successes.
In a speech Friday, the former Massachusetts governor who amassed a fortune estimated in the hundreds of millions of dollars turning around troubled companies, offhandedly referred to his wife's "couple of Cadillacs."
Romney attempted to address those concerns by spending part of the day at the Daytona 500 race in Florida, a traditional stop for candidates courting blue-collar "NASCAR dads," and in an interview with Fox News Sunday's Chris Wallace.
"If people think there's something wrong with being successful in America, then they better vote for the other guy," Romney told Wallace, " because I've been extraordinarily successful and I want to use that success and that know-how to help the American people."
Bob Goldberg, a University of Utah history professor who has done research into how being Mormon has affected the political careers of both Romney and his father, said faith continues to be an issue with some voters.
"The fact that Mitt Romney is Mormon makes him fail litmus tests," Goldberg said. "Romney, whom I consider a pragmatic conservative, is simply not kosher enough for these ideological conservatives."
But unlike Romney's first run in 2008, Goldberg said, religion may be less likely to be given as a reason for rejecting him. He said conservatives are becoming more sensitive to the possibility the public will react negatively given the recoil towards anti-Obama protests perceived as racist.
"I have to think being LDS is a major detriment to him," Goldberg said, because some in the party are "so concerned about ideological purity, they may not go with the best candidate."
Nicolas Hugentobler, a podiatry resident at a Detroit hospital originally from Monticello, Utah, said Romney has been targeted from the start.
"I think people will latch on to anything that he says," Hugentobler said after attending LDS Church services Sunday at Romney's former ward with his wife, Lisa, and their 18-month-old twins.
"There's always the group that vote against him. I think a large portion of that is because he's LDS," Hugentobler said. "I feel very confident with his ability to handle whatever criticism comes along."
Still, he said, now that "anti-Romney vote has gone with Santorum," it's going to be tough for Romney. Santorum, Hugentobler said, "is a really good guy. If I wasn't such a Romney supporter, I would look to him."
Sue Rivette said there is misunderstanding about The Church of Jesus Christ of Latter-day Saints, recalling how she'd been asked if her husband had other wives.
"I just don't think that those who are against (Romney) because he's a Latter-day Saint understand his love for Heavenly Father," Rivette said. "He has lived a very Christ-centered life. I can't think of a thing I would say bad about him."
Another member of the congregation, Mary Beth Brewster, said she's still undecided about how she'll vote on Tuesday.
Brewster said she's leaning toward Texas Rep. Ron Paul. "I really like him," she said. "He seems to have a lot of common sense. But I don't think he's going to win."
Paul is the only one of the four candidates still in the race who has not won a state. Romney is expected to take Arizona, the other state voting Tuesday. Former U.S. House speaker Newt Gingrich has been campaigning in his home state of Georgia, one of 10 states that vote on Super Tuesday March 6.
Just a few miles from the LDS church's idyllic setting near large estates dotted with ponds, couples pushing baby strollers and walking dogs filled the quaint downtown streets of Birmingham.
Rajeeve Gupta, a business owner, said the only Republican he would have voted for this election year is former Utah Gov. Jon Huntsman Jr. Huntsman dropped out of the race last month after a disappointing finish in New Hampshire.
"Huntsman was the right person," Gupta said, citing his background as a former U.S. ambassador to China and his willingness to embrace diversity, evidenced by his adopted daughters from China and India.
Republicans, Gupta said, are too focused on issues like abortion and gay marriage. "They're tying to sell you faith," he said, when the economy is the biggest issue facing the country.
Gupta said he could not support Romney, however, because his wife works in the auto industry and Romney continues to argue against the federal government's bailout of the car companies.
"The GOP," he said, "is so stupid."
E-mail: [email protected]
Twitter: dnewspolitics