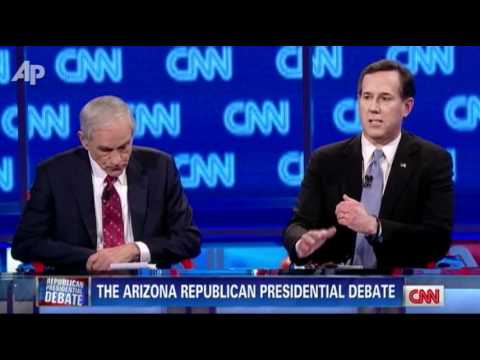 View 5 Items
YouTube

MESA, Ariz. — Seated next to each another during the CNN Republican presidential debate Wednesday night, Mitt Romney and Rick Santorum likely saw their candidacies go in opposite directions, say pundits scoring the debate this morning.
Ron Paul and Newt Gingrich, meanwhile, played the roles of "attack dog" and ineffectual bystander, respectively.
Santorum — now leading the Republican field in national polling — may well have watched the chance of a lifetime slip by and circle the drain on a night when he never seemed comfortable.
"The evening could have been Santorum's moment to move the needle in his favor, and he simply couldn't make it happen," Maggie Haberman wrote for Politico. "The former Pennsylvania senator, who has been an agile debater with a surprising ability to take the fight to Romney in past debates, seemed nervous, tired and uncomfortable at the outset. The seating dynamic, with the four hopefuls at a table, nearly bumping elbows, may have played a part in that."
Writing for The Atlantic, Molly Ball observed, "Elevated to the spotlight like never before, (Santorum) needed to show he belonged — ideally alone — in the top tier. In the past, he's often risen to the occasion. But on Wednesday, he was thrown badly off his game."
Formerly "Mr. Inevitable" for the GOP nomination, Romney is now clawing for a come-from-behind win in his native Michigan's upcoming primary. On Wednesday he essentially won the 20th and likely final Republican debate by avoiding any miscues.
"Romney's performance isn't likely to reinspire confidence in his front-runner status, which is probably more his long-term concern," Aaron Blake wrote for the Washington Post. "But he bought himself time to work on that, at the very least, by stunting Santorum's momentum."
"Romney was by no means at his strongest. … But overall, the debate has to be scored a major win for Romney and a major missed opportunity for Santorum," Ball wrote.
A big part of Romney's perceived success stemmed from Paul's ability and willingness to tear into Santorum. Along those lines, one of the most memorable exchanges in the debate occurred when Paul was asked why his campaign is running ads calling Santorum "a fake."
The New Yorker's Alex Koppelman recounted Paul's response: "Asked by moderator John King, 'You have a new television ad that labels (Santorum) a fake. Why?' Paul coolly responded, 'Because he's a fake,' before adding, 'I find it really fascinating that, when people are running for office, they're really fiscally conservative. When they're in office, they do something different.'"
Gingrich gave a solid performance, but ultimately he seemed like something of a sideshow by failing to meaningfully engage his fellow candidates.
"Former House Speaker Newt Gingrich won several points by returning to a tactic that worked well for him in previous debates — scolding the 'elite media' instead of his fellow competitors," PBS NewsHour reported.
New polling from Gallup shows that whether it's Romney or Santorum, the Republican nominee stands a legitimate chance of unseating President Barack Obama come November.
"U.S. registered voters are closely divided in their 2012 presidential election preferences," according to Gallup.com. "Romney is slightly ahead of Obama, 50 percent to 46 percent, while Obama edges Santorum, 49 percent to 48 percent, but neither of these differences is statistically significant."