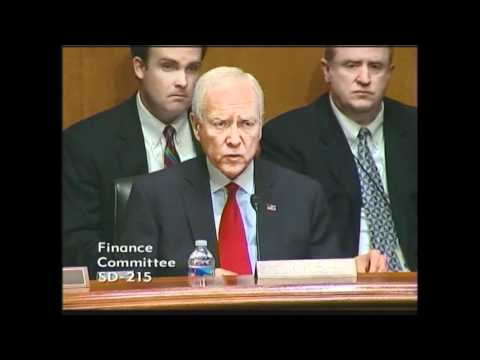 View 2 Items
YouTube

Republicans in the Senate Finance Committee signaled today that they were not yet willing to drop the fumbled contraceptive mandate the White House hoped would disappear quietly.
Sen. Orrin Hatch skewered Health and Human Services Secretary Kathleen Sebelius for not directly responding to a letter he sent her in July or to a second letter he sent in October, this one signed by 27 other senators.
Both letters asked Sebelius for "any analysis requested or obtained by HHS" regarding the religious liberty issues implicated in the regulation, which mandates that religious institutions provide health care that covers contraception, sterlization and abortion-inducing drugs called abortifacients.
That letter drew a perfunctory response from an assistant secretary of legislative affairs, according to Hatch's office, and it completely ignored the key question, which focused on legal analyses of religious liberty issues.
"The President's chief of staff and press secretary have claimed that this mandate is consistent with the First Amendment, and the final rule you issued last Friday states that it is consistent with the First Amendment and the Religious Freedom Restoration Act, which was the bill that I brought to the Congress. Let me just ask you again, did HHS conduct or request any analysis of the constitutional or statutory religious freedom issues?" Hatch asked Sebelius.
Based on her response, there is some question about how formally the department had analyzed the matter. "Well we certainly had our legal department look at a whole host of legal issues," Sebelius said.
Sebelius also acknowledged that she had not contacted the Justice Department for an opinion, which would be a common practice when facing a delicate constitutional question.
Hatch asked her, "Did you ask the Justice Department?"
"I did not. No sir," she replied.
Sebelius also noted that she did not consult with the Conference of Bishops, the nation's leading organization of the Catholic Church, before revising the rule last Friday, but that pro-abortion groups had likely been consulted.
Politically, this is a strange admission, since the purpose of the compromise was to defuse opposition from the Catholic bishops.
Eric Schulzke writes on national politics for the Deseret News. He can be contacted at [email protected].