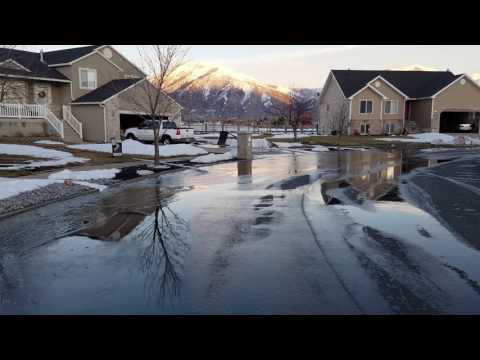 View 2 Items

Sponsored by
BrandView
This story is sponsored by Utah League of Cities and Towns.
Click
to learn more about Utah League of Cities and Towns.
Sponsored by
The large accumulation of snow in the mountains of Utah, combined with an unseasonably warm January that included several rainstorms, led to a rapid melt on ground that was saturated and partly frozen. This resulted in a massive runoff and caused flooding in several Northern Utah communities, including the city of Nibley.
Nibley City Manager, David Zook, explains how the flooding began, "Nibley is an agricultural area with a lot of farm fields that were full of a couple feet of snow. When we then got a few inches of rain, the snow melted and those fields turned into lakes. And once the fields filled up, the lakes started flowing and didn't stop until the water hit houses."
With storm water basins overloaded and more water flowing above ground, dozens of Nibley residents had water seepingand even pouringinto their basements.
"A lot of residents started pumping the water out with sump pumps," Zook explains. "Unfortunately, this overwhelmed both our storm water and sewer systems. The biggest concern was the sewer system."
Nibley typically has between 100 to 400 gallons per minute going through its sewer system. At the peak of the flooding, the city had 1800 gallons per minute gushing through. This was an extremely alarming situation because, during the flooding, Wellsville, the city next to Nibley, was experiencing waste water back up. Zook and other city officials became worried that this would also start happening to residents of Nibley. "We're talking about raw sewage in people's homes," Zook says with a grimace. "It's not pretty, so wanted to do everything we could to prevent it from happening in Nibley."
Once city officials realized the potential for wastewater back up, they knew they had to quickly get the word out to residents. Information was posted on the city's website and spread via social media. Nibley also utilized the community alert system, which sent out a phone call, text message and email to every resident in town with information about the emergency.
"Initially, we asked residents to stop putting their storm and ground water into the sewer, but we quickly saw that wasn't enough," Zook explains. "We then asked residents to completely stop using their sewer systems—to stop washing laundry, flushing toilets, taking showers, and washing dishes because our system was so overwhelmed."
Nibley residents responded admirably, each doing his and her part to help with the emergency, and the city immediately started pumping water from the low spots to try and alleviate the damage. Nibley was also able to track the flooding and monitor particular trouble spots using GIS technology.
"Cache County has a system that tracked the roads that were closed and the bridges that were out. The information was posted in real time online, so that residents could see what was going on," says Zook. "It was a great tool to both inform the public and allow government agencies to keep track of what was going on with the flooding."
It has been more than a month since the flooding emergency, but many parts of the city are still completely saturated with water and several homes are still pumping water from their basements. And while Mother Nature is impossible to control, what Nibley City learned during this emergency will make them even better prepared to handle a similar flooding situation in the future.
"We will do a better job of educating our residents," Zook says. "We already have a law on the books that says you can't pump storm or ground water into the sewer system. It costs money for the city to treat it, and, in a flooding situation, it could overwhelm our system. Of course, a lot of the water in this past flooding event didn't come from our residents. It came from manholes or other places where water was leaking into our sewer pipes. To prevent this from happening again, Nibley is working hard to seal up those areas to ensure the system is as water tight as possible."
Read more from the Utah League of Cities and Towns on DeseretNews.com or visit their website at ulct.org.