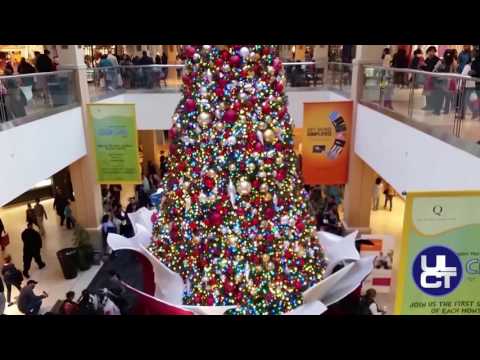 View 2 Items

Sponsored by
BrandView
This story is sponsored by Utah League of Cities and Towns.
Click
to learn more about Utah League of Cities and Towns.
Sponsored by
It's a very merry mood for holiday shoppers in Utah this season. Wages in the state are climbing, unemployment is low, and people are ready to spend money.
Zions Bank Economic Analyst Robert Spendlove says that's an easy prediction to make. "It's a very rosy picture. Utah is firing on all cylinders. Things are very strong. People feel good about the economy. Job growth is strong, unemployment is low. People should expect to see a lot of their friends and neighbors when they're out shopping."
So where will we shop, how much will we spend, and what will we buy? The national retail federation tracks a lot of our habits, such as when people start shopping. Based on data from 2015, most people don't begin their shopping until November. In fact, nearly 20 percent of shoppers won't buy a single gift until December.
An increasing percentage of our holiday shopping is done online. 2015's numbers show shoppers made nearly half of their purchases online.
Last December, Amazon stock prices on Wall Street grew 112 percent while many traditional "brick and mortar" stores saw a decrease in their stock prices.
Yet, people still visiting local retail outlets for holiday shopping. And not all their purchases are on gifts. Spendlove says, "We're seeing an increasing trend of people buying gifts for themselves. They'll go to the mall and they'll see something for a family member and then they see something they like for themselves so they'll pick that up as well."
While almost everyone will buy gifts for family members, 71 percent are buying for friends, and just one-third of shoppers buy gifts for co-workers.
We will each spend an average total of $935 during the holidays, with $588 on gifts. But will the gifts we buy be what our friends and family really want?
2015 data indicates most of our money during the holidays is spent on food/beverage and electronics, but most people really want gift cards. Spendlove says, "They want the freedom to be able to buy the color they want and the style they want. After that, they like electronics, food items, clothing, so there's a wide variety of what people want, but what they really want is that freedom to pick out."
In Utah, our holiday spending forecast is even stronger than the national picture. It's based on consumer confidencesomething that Spendlove says we've got in Utah.
Read more from the Utah League of Cities and Towns on DeseretNews.com or visit their website at ulct.org.