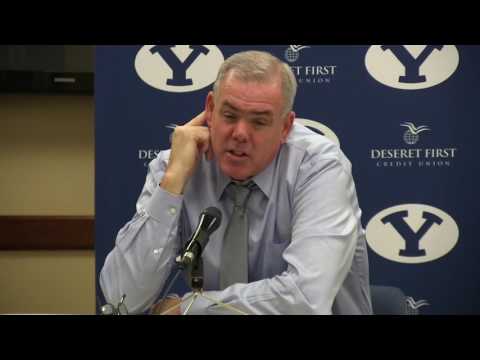 View 32 Items


The biggest takeaway from this game was, it was good to get a lot of players out there and give them their first real minutes of the season.

—BYU head coach Dave Rose
PROVO — BYU scored almost 100 points, won by 37, and led by as many as 42. Eric Mika scored 18 points and blocked three shots in 15 minutes, and Yoeli Childs grabbed 15 rebounds in 20 minutes, while 12 different Cougars had at least one field goal.
But in the Cougars' 96-59 victory Thursday night before a crowd of 12,444 at the Marriott Center over road-weary Coppin State, two statistics that stood out to coach Dave Rose were his team's 22 turnovers and the Eagles' 19 offensive rebounds.
"The biggest takeaway from this game was, it was good to get a lot of players out there and give them their first real minutes of the season," Rose said. "There's obviously a couple of things that really concern us from this game. One, we turned the ball over way too many times. And they had quite a few offensive rebounds. Defensively, you're trying to defend 50 or 60 misses in this game. They did a better job of tracking those balls in the second half."
BYU (2-0) had 13 turnovers in the first half alone, and Coppin State finished the game with 11 steals.
"I think we were just trying to overshare the ball," said guard Elijah Bryant, who finished with 11 points and seven rebounds. "Not necessarily bad passes, we were just oversharing the ball."
Rose attributed the high volume of turnovers in part to the way the Eagles play defensively.
"Most of the turnovers were when we were trying to share the ball. We had a couple of aggressive drives that they did a good job of taking from us," Rose said. "A lot of it was maybe their aggressiveness. They play defense to steal. They like to get their hand in there and take the ball from you, and we were just soft with the ball. A lot of things we can work on."
Thursday's game was part of the MGM Grand Main Event, which also includes Saturday's home game against Coastal Carolina and next week's games in Las Vegas, starting with a matchup Monday against Saint Louis.
Coppin State (0-4), which shot 26 percent from the field, had already played twice this week, losing at Valparaiso Monday and falling at Coastal Carolina Wednesday before traveling to Provo. The Eagles face Utah Friday.
Coppin State didn't play like it was a tired team, according to Childs.
"They were playing hard the whole time," he said. "They got 19 offensive rebounds. They played very hard."
Rose liked the production from Childs, who also scored eight points, and the fact that he picked up only two fouls.
"Yoeli's 15 rebounds were pretty impressive. It was a real bright spot," Rose said. "Not only can he stay on the floor and stay out of foul trouble, but having an impact on the game. (Defensively) he changed a lot of shots. Our big guys are really going to be a real strength of this team."
BYU raced to a 16-2 lead in the opening minutes against Coppin State, but turnovers allowed the Eagles to cut the deficit to eight, 30-22. The Cougars asserted themselves again, pushing their lead to 19 points, 48-29, before taking a 48-32 lead into the locker room at halftime.
To open the second half, BYU went on a 13-2 run and cruised from there. Rose enjoyed emptying his bench and watching 14 players see action.
"We subbed pretty early. It's good for them to get their feet wet," Rose said. "Trying to stay together in the system when you figure the game is out of hand as far as the score's concerned, they did a good job of running our stuff. A lot of defensive lapses. But it's good film that we can watch and teach from."
The Cougars host Coastal Carolina Saturday (7:30 p.m., MST, BYUtv).