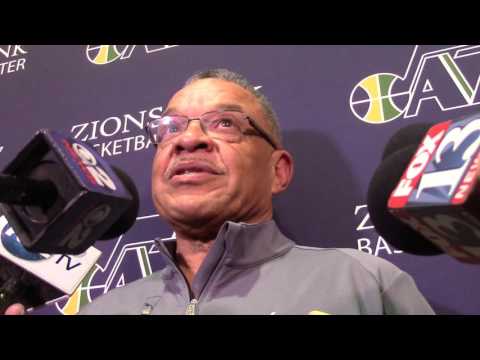 View 8 Items

I've been a shooter for a while now. I just wanted to show that I can shoot well. I wanted to show that I can defend at this level. Those are the things that I think I need to do to make it at this level.

—Jordan Loveridge
SALT LAKE CITY — Jordan Loveridge has played hoops and worked out in basketball gyms around the Salt Lake Valley for most of his life.
On Wednesday, Loveridge had a uniquely special basketball experience in his hometown. The West Jordan product was among six NBA hopefuls invited to a pre-draft workout session with the Utah Jazz.
"It's amazing to get to come in this gym," said Loveridge while surrounded by 20 media members at the Jazz's practice facility off of I-15 and 1300 South. "There's been so many great players that's come through here. I've watched it my whole life, so it was a great experience."
As he addressed a 20-person media scrum, beads of sweat streamed down the face of the 22-year-old who played his college ball across town at the University of Utah.
"Every one says it's tough," Loveridge said of the tryout, "and it really is. It's tough. These guys are at a whole different level even from college. It's just, you've got to work so hard. You've got to take your hat off to the guys who make it into the NBA."
Loveridge said he's gotten advice from Ute coach Larry Krystkowiak and former Utah star/Toronto rookie Delon Wright about trying to take his talents to the next level.
The advice from Coach K: "Just don't take anything for granted. … Cherish every moment. Go out and have fun and do what you do."
And from Wright: "It's tiring but just go out there and do the things you do. Don't try to do any more." During his Jazz workout, the former West Jordan High star and 2012 Utah Mr. Basketball competed with and against Wyoming guard Josh Adams, Fairfield forward Marcus Gilbert, Arkansas-Little Rock guard Josh Hagins, Louisiana Tech guard Alex Hamilton and Texas A&M guard/forward Jalen Jones.
The group, which was the second to work out for Utah in its busy evaluation season, had measurements taken and participated in a variety of drills to test shooting, passing, dribbling, ability to get to the rim, etc. As Loveridge put it, "a little bit of everything."
The good news for Loveridge? The 6-foot-6 small forward shot the ball well, even hitting better than 50 percent from NBA 3-point range in a 100-shot test the Jazz put players through.
"I've been a shooter for a while now. I just wanted to show that I can shoot well," Loveridge said. "I wanted to show that I can defend at this level. Those are the things that I think I need to do to make it at this level."
Walt Perrin, the Jazz's vice president of player personnel who's overseen these pre-draft workouts for 15 years, was pleasantly impressed with how well Loveridge shot from beyond the arc. Perrin has scouted Loveridge seven or eight times over the past four years and didn't expect the 38.1 percent collegiate 3-point shooter to do as well as he did.
Perrin offered constructive criticism with the compliment.
"First and foremost, he's probably got to get in better shape," Perrin said. "And I've told his coaches that." The Jazz also thought Loveridge's shooting form needs to be tweaked despite his solid accuracy from outside Wednesday. Perrin said his shot is a little flat and includes too much hesitation.
Even so, Loveridge came away with a great memory of working out for the NBA team he's been watching his whole life.
"It's hard not to be a fan when you grow up and you see Karl Malone, John Stockton, so many great players have gone through here," he said. "It's just awesome to get a chance to play for this team."
Loveridge said his parents, Bill and Latrill, were thrilled.
"It was great. They've grown up Jazz fans," he said. "They go to a lot of games. When I got the call and they heard I was working out, they were really happy."
Loveridge wore practice jersey No. 80, but he doesn't get to keep it as a fun souvenir.
"They said we've got to turn these in," he said, "but we get to keep the shorts."
Loveridge doesn't have any more workouts scheduled. "Right now," he said, "it's just a waiting game" — but he's hoping to show his stuff for any NBA team that will have him. His goal is to earn a summer league roster spot and hopefully to impress a team enough to keep him.
And if the NBA doesn't pan out now? Where then?
"I think it would just be whatever is the best situation for me, just like how it was when I chose to go to Utah. I felt like that was the best decision for me, and it worked out," Loveridge said. "Hopefully, I can make another good decision moving forward and be in a good spot."
JAZZ NOTES: Another group will take the Zions Bank Basketball Center court on Thursday. Those hopefuls include Arizona forward Ryan Anderson, Clemson forward Jaron Blossomgame, Michigan State forward Matt Costello, Old Dominion guard Trey Freeman, Stephen F. Austin forward Thomas Walkup and Nebraska guard Andrew White. … Per Jazz policy, Perrin could not comment on underclassmen who participated in Saturday's workout (or any who will be coming in) because they might return to college thanks to a new NBA rule. … Perrin isn't sure quite yet if the Jazz will work out as many players as the team did last year (100-plus) because it's fatiguing on the staff. "We're going to try to be a little bit more efficient in terms of our workouts and our strategy days." … Perrin isn't overly optimistic that the Jazz will get a chance to get Utah center Jakob Poeltl for a pre-draft workout. He's expected to be drafted before their first pick at No. 12 (assuming Utah doesn't win the draft lottery in two weeks). "To be honest with you, I think it's going to be a struggle to get some of the guys we want to get in who are going to be in our range, let alone the people who are above us, because of the nature of our team … the depth of our starters."
TWITTER: DJJazzyJody