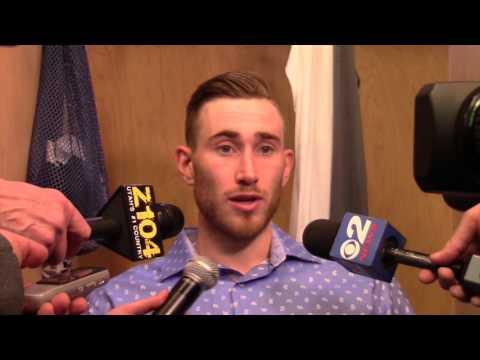 View 21 Items

SALT LAKE CITY — It could've been a night of celebration for the Utah Jazz.
If things had turned out the right way, the Jazz could've clinched a playoff spot.
Instead, Monday served as a painful reminder of the story of the Jazz's season.
Agonizing injuries.
Untimely offensive ineptitude.
Gritty comeback attempt.
Another disappointing defeat.
Let the countdown to locker cleanout begin.
Although the Jazz aren't officially eliminated from the playoffs, they'll need some major help after this ugly 101-92 defeat to the Dallas Mavericks.
"I think some days are diamonds and some days are stones. Tonight was no doubt a stone," Jazz forward Gordon Hayward said. "Tough way to lose for us."
"This," echoed Jazz guard Rodney Hood, "is a tough one to lose."
Considering what was at stake, this was an extremely tough blow for Utah.
Because Houston clobbered Minnesota on the road to catch up with the Jazz, also 40-41, Utah's playoff hopes have been simplified.
The Jazz, who don't own the tiebreaker against Houston, have to beat the Lakers in Los Angeles in Kobe Bryant's career finale Wednesday and the Rockets must lose at home to the Sacramento Kings.
"Stranger things have happened," Jazz coach Quin Snyder said.
As has been the case all season — going back to Dante Exum's offseason knee injury — the Jazz were hampered by more health issues in the biggest game of the past few seasons.
First, Derrick Favors didn't even start because of a sore right knee that kept him out of Sunday's win at Denver. He eventually did play but was obviously limited in an 11-point, three-rebound outing.
The Jazz then suffered another big blow when Rudy Gobert, the team's top rebounder and defensive anchor, twisted an ankle in the second quarter.
Gobert, who was maneuvering around the locker room on crutches after the game, didn't return to the court.
"We had a lot of diversity in the game. Derrick was clearly banged up. Losing Rudy early in the game was obviously a tough break," Snyder said. "It just puts a lot of pressure on you."
That's something the Jazz have dealt with — oftentimes admirably so — all season long. Coming into Monday's game, Utah players had missed a combined 178 games because of injuries and illnesses.
This time, the Jazz buckled under the pressure.
"That's also been kind of the story of our season has been guys going down, guys getting hurt, banged up," Hayward said. "I don't know exactly what happened (to Gobert), but it sucks. It sucks to have a teammate go down, especially one of your anchors defensively. I thought guys that stepped in his place did a great job. Favs was hurt too. He can't play his whole game."
That was hardly the only reason the Jazz lost, though.
Despite a rough first half and the latest medical dilemma, the Jazz were still right there with Dallas, 50-46 at the break, until Utah's outside shooters began bullying the rims with hard miss after hard miss.
That long-range misfiring — the Jazz went 9 for 33 from deep on the night — was magnified because of the way Dirk Nowitzki (of course) and former Jazz players Deron Williams and Wesley Matthews were playing.
Williams finished with a team-high 23 points on 9-of-16 shooting, Nowitzki added 22 points and 11 rebounds and Matthews scored 20.
Two of Matthews' four 3-pointers were particularly painful for the Jazz.
The first came after Utah roared back with a 10-0 run to pull within two points of the Mavs late in the third quarter.
Matthews ended that spurt with a corner 3 while heavily guarded and time running out on the shot clock.
From there, Dallas went on a 7-0 run and eventually took a 15-point lead in the fourth quarter.
The Jazz made one final surge in the last couple of minutes, pulling within eight with 2:42 left.
Another Matthews long ball all but squelched that late push. Utah still got within six a few times in the final minute and a half, but Dallas had an answer every time.
That helped the Mavericks clinch at least the seventh seed in the Western Conference playoffs and put the Jazz on the brink of another disappointing season.
"This game meant a lot to us," Williams said. "We knew it meant a lot to them as well, so coming in here we knew this was going to be like a playoff atmosphere. Essentially, it was a playoff game because there was so much at stake."
Hayward, who had a game-high 26 points with six rebounds and four assists, blamed himself after a 1-for-9 performance from 3-point territory.
"Just a night where we don't hit shots, and that starts with me. That's contagious. Got to be better," Hayward said. "We couldn't ask for better looks for a lot of us on the team. I think we executed what we wanted to offensively and got the right looks. We just didn't knock them down. I have to be better and this one's on me for sure."
Actually, there's plenty of blame to be shared.
Rodney Hood made only 1 of 11 field goals and missed six of seven from deep. Shelvin Mack had 18 points but was 2 of 7 from outside. Trey Lyles, who started for Favors, scored just nine points and turned away multiple shots.
"I thought we played hard," Hood said. "I think they executed. They hit shots, some tough shots, when we defended them well. We didn't, myself in particular, as a team shoot the ball like we wanted to down the stretch. Give credit to them. They executed down the stretch."
And the Jazz?
On as big of a night as the franchise has had in years, they simply missed their shot — and shots.
TWITTER: DJJazzyJody