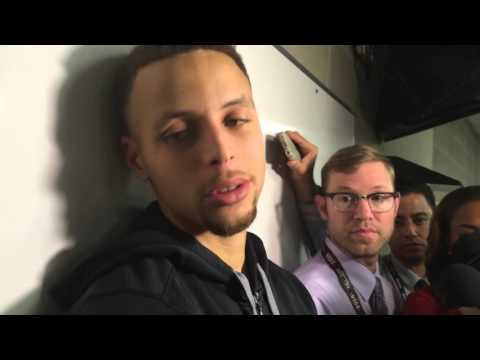 View 5 Items

SALT LAKE CITY — Four fans — three minors and one adult — sustained minor injuries and an impromptu pregame autograph session ended early for Steph Curry after a safety rail collapsed Wednesday night at Vivint Arena.
At least two of the fans — one minor and one adult — fell about 4 feet onto the floor just in front of Curry after the weight of a large group of excited spectators caused the railing to become dislodged while trying to get the reigning MVP's attention.
Three fans received treatment on the spot and were released to return to their seats, according to Frank Zang, vice president of communications for Larry H. Miller Group of Companies.
Another fan went to an arena first aid station but did not require medical attention.
The incident happened after Curry finished his pregame warmup routine, which was observed by several thousand people about more than an hour before the game started.
Fans pushed and moved toward the bottom of the arena bowl when Curry made his final shot — a high-arching make that drew a loud reaction — after which he headed toward the visitors locker room.
Curry stopped to sign some autographs when the crowd pushed fans into the railing so hard that it disassembled and fell to the ground.
Curry then stopped signing autographs and headed to the locker room after at least one minor and one man tumbled in front of him.
The superstar didn't leave three of the fans empty-handed, though.
Curry signed a basketball, a shoe and a jersey to give to three of the fans.
Jazz PR said the organization will evaluate the situation to determine whether any additional safety measures need to be altered. Arena security guards quickly responded to the incident.
VIEWING PARTY: The Jazz will broadcast the 2016 NCAA men's championship game this Monday night on Vivint Arena's two 42-foot-by-24-foot screens. The team is hosting the viewing party in conjunction with a season-ticket sales event.
Fans will also have a chance to win prizes by making a shot on the Larry H. Miller Court.
The party, free of charge, begins at 5 p.m.
EMAIL: [email protected]
TWITTER: DJJazzyJody