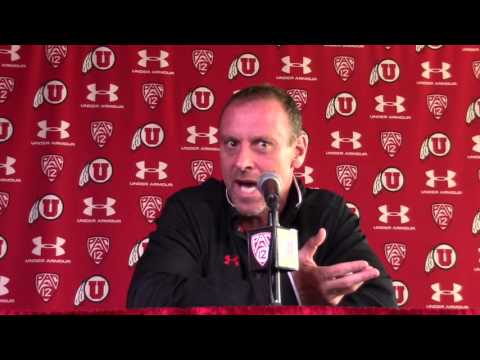 View 2 Items

SALT LAKE CITY — After back-to-back losses to Oregon State and Oregon, the Utah men's basketball team is eying a rebound starting Wednesday against Washington.
In his weekly press conference held Tuesday morning, Runnin' Utes head coach Larry Krystkowiak said it was important for his team not to dwell on last week's losses. He said the team played well for the most part, but in both cases little spurts of carelessness with the basketball cost chances to win.
"That's the way basketball rolls. It's not always energy, sometimes it's brains," Krystkowiak said. "Sometimes it's a matter of making open shots. It's never the same story in every game and I think that's why watching college basketball is pretty intriguing."
The Utes (17-7, 6-5) will play Washington Wednesday. The Huskies (15-8, 7-4) enter the week as the Pac-12's leading scoring team, averaging 84.6 points per game. Andrew Andrews leads the conference averaging 20.6 points per game, as well. Utah defeated Washington in overtime 80-75 when the teams met in Seattle back on Jan. 24.
"It's a great challenge," Krystkowiak said. "There's a number of things they do, sets that they do ... It's Andrew Andrews that's the father figure of a young group that plays with a lot of pace and confidence."