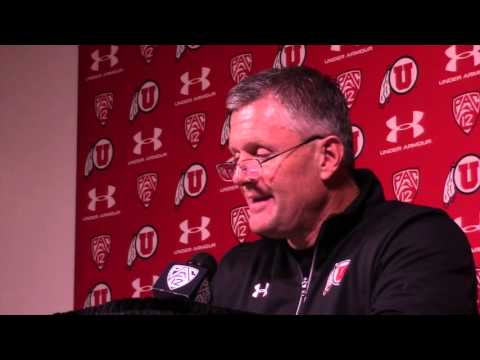 View 2 Items

SALT LAKE CITY — In the great American tradition of overkill, National Letter of Intent day hit with the momentum of a "Star Wars" premiere. It's a huge fuss over football players several years away from a finished product.
That doesn't stop recruiting websites from making it the Super Bowl (more overkill) of their trade. Thus, Dylan Moses, the kid from Louisiana who was offered scholarships by LSU and Alabama in the eighth grade, is still a year away from signing his own letter, yet football fans have known his name for years.
Utah's NLI day was like all others, except this one is being hailed as the best in school history. The signees include five-star junior college transfer Garett Bolles, an offensive tackle.
In maybe the most surprising move of the day, the Utes enticed David Luafatasaga — a linebacker formerly committed to Mississippi — to stay out West. Meanwhile, they kept their own commits from abandoning ship. Troy Williams, the former Washington quarterback, was already on campus and attending class, as was the other leading quarterback prospect, Tyler Huntley.
Most of the signees fell into the three-star category, which means nice talent but no guarantees. The can't-miss prospects such as Moses go places where national championships are within view. In midafternoon on Wednesday, the Utes held their customary post-event presser, declaring victory against what coach Kyle Whittingham said were "quote-unquote heavyweights — and coming away with some really good players."
Perhaps a half dozen of Utah's 23 signees will have quick impact. But sometimes they surprise. Britain Covey was a three-star recruit that many thought would end up at Utah State, last year. Instead he was the Utes' best return man and receiver. That's why Utah had 25 former players on NFL rosters this season.
Finding under-the-radar talent has become a tradition for Whittingham. Above-the-radar players are mostly the spoils of bigger programs, which is probably OK with Whittingham, considering the circumstances.
Take, for example, Alabama's Nick Saban dancing the "wobble" while recruiting five-star defensive back Jared Mayden. (Wince here.) That video surfaced after Mayden de-committed from Oregon and before he signed with Alabama.
Maybe Oregon's Mark Helfrich should have learned the "stanky legg."
Saban then moved on to do the "dab" with four-star linebacker Mack Wilson, who also signed with the Tide.
But that's far from the year's most over-the-top recruiting pitches. Michigan's Jim Harbaugh talked kicker Quinn Nordin into a sleepover and movie night at the player's house. That's not weird. Turned out Nordin signed with the Wolverines, as did four-star recruit David Long Jr., who watched Harbaugh try to climb a tree in his yard.
The Michigan coach also posted a handwritten "prom invitation" to defensive tackle Boss Tagaloa. That time it wasn't enough, though, as Tagaloa signed with UCLA.
Meanwhile, Notre Dame parked the team's equipment tractor-trailer overnight at four-star receiver Demetris Robertson's home.
Utah? It got the job done without the theatrics. Whittingham loaded up in areas his team was growing thin, such as quarterback, linebacker and receiver.
With that in mind, I waited until the press conference was over and said to Whittingham, "These questions are too silly for the press conference."
"Too silly for the press conference?" he said.
"Yeah. Too silly. These are things other coaches did recruiting. Would you ever sleep over at a recruit's house?"
"I'd sleep with my wife. I'll take my wife every time," Whittingham said.
"Would you ever climb a tree?"
"I have climbed many trees in my life. If I was sure climbing a tree would get me the recruit, I'm up that tree. But if there was any speculation, probably not."
"Would you dance the wobble?"
"What's that?" Whittingham said. "I don't know what that is."
"I don't either. But it's a dance Nick Saban did."
"Nick Saban did it? If it would help your cause and make you think you're going to get the guy, then yes."
Maybe Whittingham's next coaching hire should come from "So You Think You Can Dance."
Email: [email protected]; Twitter: @therockmonster; Blog: Rockmonster Unplugged