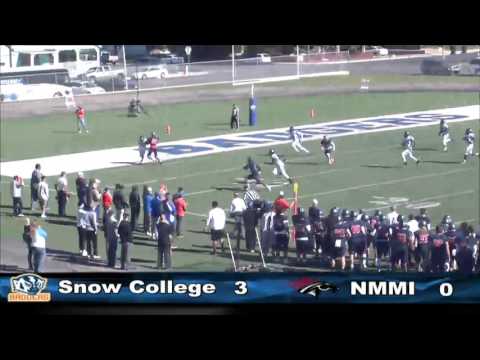 View 4 Items

I want to feel comfortable, and I feel comfortable there in school and on the field.

—Jonah Trinnaman
Over the past few months, Snow College wide receiver Jonah Trinnaman has been at the center of the BYU-Utah rivalry.
The speedy big-play threat originally out of American Fork High School has been a target by the coaching staffs of both schools, and a player who both fan bases have badly wanted.
On Wednesday, multiple sources confirmed with the Deseret News that Trinnaman, a longtime pledge to the Cougars, has decided he's sticking with that commitment and will sign a National Letter of Intent with the Provo school on National Signing Day next Wednesday.
Trinnaman took an official visit to Utah last weekend, and that combined with a visit from BYU coaches Kalani Sitake, Ben Cahoon and Ty Detmer Tuesday helped him confirm in his mind that Provo is where he wants to finish his college career.
Having built a strong relationship with Utes wide receivers coach Guy Holliday while Holliday held the same post with the Cougars, Trinnaman said he informed the coach of his decision Wednesday.
"It wasn't like a 50-50 kind of deal I don't think," he told the Deseret News by phone Wednesday about the challenge of deciding between the two universities. "I wanted to hear what (Holliday) had to say in his new role at Utah. I really just wanted to make sure that I was making the right choice, so I went up there (on an official visit). It was a great time, but I just didn't feel comfortable. I've been a BYU fan my whole life and grew up going to games. Talking to Sitake and all of them yesterday, I just kind of got the feeling that's where I need to be."
For Trinnaman, much of why he favored the Cougars had to do with the familiarity he had with the program, although forming a good relationship with the new coaching staff in Provo was also key.
"I love those new coaches," he said. "It's a good opportunity to go and play and be close to home. Obviously, I'll get a great education and do it all where I feel extremely comfortable. I want to feel comfortable, and I feel comfortable there in school and on the field. That's really important to me."
Reflecting on the last few months, Trinnaman acknowledges it got hectic, but he's grateful to have been in the position.
"It got a little crazy at a couple points, but I'm just thankful," he said. "I remember in high school I wasn't the player I am now, my first year at Snow I wasn't the player I am now. Now, I'm a much better player, had a great year, the team had a great year. I'm just thankful for the opportunity to even have those two offers and represent those schools."
Trinnaman still has an official visit scheduled at BYU this weekend, but he said nothing there will cause him to waver in his decision.
"I feel like this visit this weekend, I can go have fun and kind of prepare myself for what it's going to be like in a couple months when I'm there in the summer," he said. "It's not going to change anything. I'm committed to BYU."
Ryan McDonald is a sports reporter at DeseretNews.com. Follow him on Twitter @ryanwmcdonald.