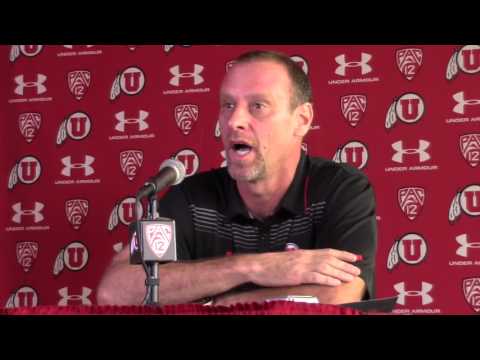 View 2 Items

In light of the recent news that the BYU-Utah basketball game was canceled for next season, University of Utah President David W. Pershing said Monday his school will work toward ensuring "future athletic contests are exciting and respectful for all."
"While we respect and value the rivalry between our athletic programs, several negative aspects have emerged over the last several years that need to be addressed," Pershing said in a statement released by the university Monday at the Utes' regularly scheduled basketball media availability.
Pershing said he has spoken with BYU President Kevin J. Worthen about this issue and that both schools are committing to creating a healthier environment in a rivalry that dates back to 1909 on the basketball court. BYU holds a 129-128 edge in the competitive series; the only other time the rivalry wasn't played during a season was in 1944, because of World War II.
"During the next few weeks, I will create a working group of faculty, staff, students and fans to assist in identifying changes that can be made to ensure future athletic contests are exciting and respectful for all," Pershing said.
Worthen also shared a statement Monday, expressing his desires to have the rivalry continue while adding BYU also has plans in place to take a look at how to remedy issues in the rivalry.
"We appreciate the plans President Pershing has in place to establish a working group at the University of Utah to identify changes that can be made to ensure future athletic contests are respectful for all," Worthen said in the statement. "We too have worked to identify where changes can be made, and we will continue these efforts. Our hope is that both schools can work together to achieve our shared goals."
Pershing also said the University of Utah's plan is to play two in-state schools each year, including BYU, Utah State, Southern Utah, Weber State and Utah Valley on that list. This season, the Utes defeated Southern Utah in the season opener, then defeated BYU in a game where Cougar guard Nick Emery punched Ute guard Brandon Taylor late in the contest.
"BYU values its long relationship with the University of Utah and our positive collaborations in academics and athletics. Like President Pershing, we hope this relationship continues," Worthen said. "Our desire is to continue the athletic relationship on an annual basis. It is unfortunate the basketball game with the University of Utah will not be played during the 2016-17 season."