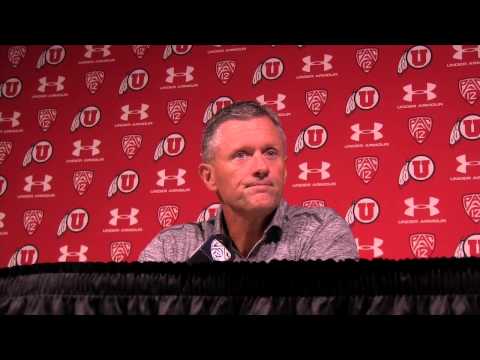 SALT LAKE CITY — Utah coach Kyle Whittingham addressed on Monday the shooting that left two Utes players, running back Marcel Brooks-Brown and tight end Lo Falemaka hospitalized.
The incident happened at a party just before midnight on Saturday. Whittingham said Brooks-Brown was released from the hospital on Sunday and Falemaka will be released from the hospital soon. He said Brooks-Brown may return to normal football activities soon, but Falemaka may miss the rest of the season.
Whittingham and players on the team each said the incident was shocking and they are happy that both are expected to be OK.
"As a coach, you have 120 guys that you essentially treat as your sons. Everyone is important to you," Whittingham said. "Them not being frontline guys for us doesnt make this less impactful for our team. It's still very difficult and a tough time for our guys."
Linebacker Gionni Paul added each is on the team's mind heading into preparation for its upcoming game at Fresno State on Saturday.
"Lo and Marcel were big contributors on special teams. Just like Coach Whittingham said, they werent really big name guys, but to us, we got 120 guys on our team that all contribute our wins," Paul said. "We're going to go out there and play this game for them."