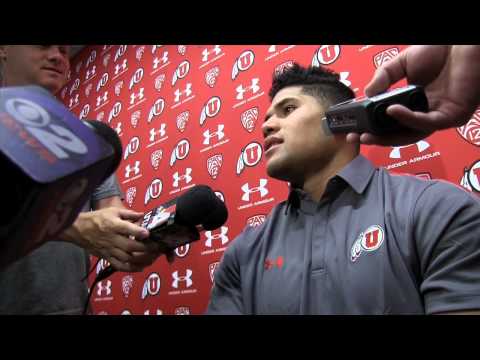 View 4 Items


It put a smile on our face to see (Hatfield) in the weight room.

—Utah freshman receiver Britain Covey
SALT LAKE CITY — Dominique Hatfield will do what not many people believed he would do this fall — play football for the University of Utah.
The junior cornerback is still facing misdemeanor assault charges, but Utah head coach Kyle Whittingham stunned reporters in his weekly press conference Monday afternoon, when he opened with an announcement that Hatfield, who was dismissed from the team on July 6, had been reinstated.
"As things are turning out, it was our belief that in fairness, he was deserving to being reinstated with the football team," Whittingham said. "Dom was in my opinion ready to come back."
Asked to elaborate on the specifics of how Hatfield had earned his way back onto the team, Whittingham declined to share any details.
"He's reinstated and he'll be ready to play as soon as we feel he's ready," Whittingham said, "and that's the end of the story."
Hatfield's trouble began on July 1 when he was arrested on suspicion of aggravated robbery and theft charges. Both charges were dismissed about two weeks later, but Whittingham announced Hatfield's dismissal in the interim, citing other off-field concerns.
Several weeks after the initial incident, Hatfield was charged with misdemeanor assault in Salt Lake Justice Court from a fight that allegedly took place at a party on July 4. Hatfield is scheduled to appear in court on those allegations on Sept. 21.
His attorney on the criminal issues said that Hatfield dealt with school and team officials in earning reinstatement. The school reinstated him as a student in mid-August — before classes began — citing their own investigation into the allegations.
"I can tell you that we've cooperated with the U. in everything," Greg Skordas, Hatfield's attorney, said. "We haven't withheld anything, haven't asserted a right to remain silent, or to work this out in court, as is the (preference) in these kinds of cases. We've given them everything they've asked for and made Domo available for everything they've asked for."
Skordas said he's still hoping to discuss a resolution to the assault charges before the scheduled pre-trial hearing.
"But if we can't, we're prepared for trial," he said. "I still think it's in everybody's best interest to resolve the case."
Skordas said Hatfield has been "incredibly grateful and gracious" throughout this process.
"But until we heard it (from Whittingham), no one was 100 percent sure," Skordas said of the reinstatement.
Hatfield will not be available to the media for several weeks, Whittingham said. But his teammates wasted no time offering their support for the coach's decision.
"It put a smile on our face to see him in the weight room," said freshman receiver Britain Covey.
Defensive lineman Jason Fanaika said his return gives a talented defense even more depth.
"I know that all of us are excited to see him," Fanaika said. "Everybody is excited for him to be back because he's obviously a playmaker, we (saw) that last year. Having him out there on the island, I definitely trust him and I'm excited to see him. I think he's going to come in and do his part."
Fanaika said one of the aspects of his game his teammates value most is his selfless play.
"That's what we love about Domo," Fanaika said. "No matter what is happening around him, if you ask him to do something, he'll do it. He's always willing to put his body on the line to make a play for the defense."
And as for whether his criminal troubles will follow him further into the season, Fanaika said he trusts Hatfield to deal with his issues appropriately.
"If he said he didn't do something, then he didn't do it," Fanaika said. "I have full belief in him."
Twitter: adonsports EMAIL: [email protected]