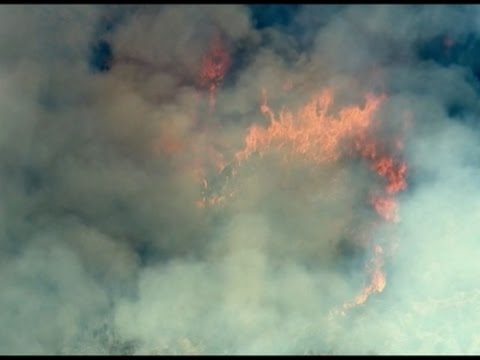 View 19 Items

Wildfires continued across the drought-plagued West on Saturday, leading residents to flee their homes and authorities to scramble for resources to beat back the flames.
Blazes in Washington state that killed three firefighters and injured four others continued to explode in size, while other fires charged toward populated areas in several states.
A look at large Western wildfires:
WASHINGTON
Massive wildfires expanding across north-central Washington continued to grow on Friday. The Okanogan Complex of wildfires, where three firefighters died on Wednesday, grew by more than 100 square miles and stood at 355 square miles on Saturday morning.
The federal government has declared an emergency, and state officials took the unprecedented step of seeking volunteers to help fight the flames. Volunteers were to begin training Saturday.
The Okanogan Complex has burned numerous structures, but the situation is so chaotic in the huge county that officials have no estimate on how many have burned. Winds were expected to slow on Saturday.
IDAHO
Evacuations have been ordered in northern Idaho as a group of wildfires that has already destroyed 42 homes threatened more residences Friday. Nearly 800 firefighters were trying to beat back the flames.
Idaho had 17 large fires — the most in the nation.
Fire managers told residents near the town of Weippe to flee the fires that have scorched 63 square miles of mostly timber.
OREGON
Firefighters working in a remote section of northeastern Oregon are trying to protect homes from a rapidly expanding wildfire that destroyed three homes as it quadrupled in size in 24 hours.
Fire crews said the blaze burning on both sides of the border with Washington grew to 75 square miles, up from 19 a day before.
The state fire marshal's office says the fire threatens more than 100 homes and a school. The unincorporated community of Troy, Oregon, was evacuated, along with nearby homes.
Meanwhile, some of the 900 people battling large blaze south of John Day were diverted to contain a new fire burning further east.
CALIFORNIA
More than 12,000 firefighters are battling 17 wildfires across California.
A fire that has burned for nearly three weeks on the western slope of the Sierra Nevada grew to 65 square miles near Kings Canyon National Park and was bearing down on popular Hume Lake.
The blaze on Friday burned down a lodge that had been evacuated earlier in the week, the first structure it had claimed since lightning sparked it three weeks ago.
More than 2,500 campers, hikers, employees and residents have been evacuated this week.
MONTANA
Officials were worried that high winds and possible thunderstorms expected Friday in western Montana could exacerbate a wildfire approaching a town near Glacier National Park.
The conditions could force some 100 residents of Essex to evacuate. A nearby 55-mile stretch of highway and rail corridor has been closed.
Near the Idaho border, residents of about 50 homes have been ordered to leave and those in neighboring areas were told to get ready to flee.
COLORADO
Smoke from wildfires led Colorado officials to expand a health advisory to the northern half of the state. The heavily populated Denver-Fort Collins area was included in the advisory.
The National Weather Service warned that wildfire danger was high in northwest Colorado because of gusty winds, low humidity and dry vegetation. Crews were monitoring two small wildfires caused by lightning.