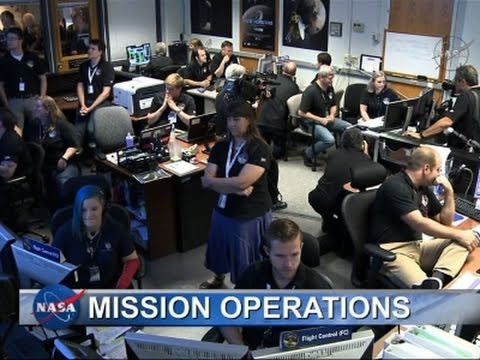 View 6 Items
Associated Press


FLAGSTAFF, Ariz. — Colorful scientific symbols of the planets stretched down the arms of visitors at a northern Arizona observatory Tuesday. Not eight, but nine, in a showing of the popularity of Pluto in the city where it was discovered.
People crowded into the visitors center at Lowell Observatory and erupted into applause when they got word that the NASA's New Horizons spacecraft got the first up-close look at the icy world. The spacecraft came within 7,500 miles of Pluto before dawn, but it took 13 hours for the confirmation signal to reach Earth.
"Today is really the culmination of 110 years of the study of Pluto and humanity's first up-close tour," said observatory director Jeff Hall in Flagstaff. "That's a very satisfying end but also the very beginning of exploring a vast solar system."
Lowell Observatory took full advantage of the flyby of the dwarf planet. Visitors had Pluto, its symbol, Earth and other astronomy-themed paintings on their faces and arms. A photo booth let visitors take pictures with Pluto, and an exhibit broadcast the newest images on a globe.
Clyde Tombaugh, an amateur astronomer, spotted Pluto at Lowell Observatory in 1930, painstakingly photographing the night sky to look for any objects shifting position. A bust of Tombaugh was dressed with a "Year of Pluto" shirt on the sidewalk leading to the building that houses the telescope he used. Visitors stopped to take selfies with him, and some gave him a peck on the cheek.
"Lowell" always rang a bell with David Seigworth because it's the name of the street he lives on near Kingman. He didn't know Pluto had five moons, and his grandson thought Pluto would be more of a blue color.
"Stuff outside Earth is really cool to me and interesting," said the grandson, Seth Seigworth, 12, of Glendale, California. "It'd be good if I could get a better look."
A handful of people who work with the observatory are in Maryland where the New Horizons mission team gathered. But the rest were part of the biggest celebration at Lowell in decades.
A large screen in the visitors center counted down the minutes until the confirmation signal was expected to arrive on Earth. New Horizons left from Cape Canaveral, Florida, in 2006 — the same year Pluto was demoted from a planet to a dwarf planet — and embarked on a 3-billion-mile journey, traveling at 31,000 mph.
Children at the observatory colored drawings of Pluto with new images of the icy world posted above them and built paper models of the spacecraft. A scavenger hunt gave them a chance to win Pluto-themed prizes.
"There's still a lot to learn. That's why we're here," said Lenor Delgado-Matusda, who traveled with family from Southern California.
Emily Bevins, who leads Pluto tours, said the intrigue over Pluto spans across all age groups of tourists, from the 5-year-old boy who called the spacecraft "New Horizizons," to older people whose concepts of space travel have changed over the years.
"They want to know how big it is, how cold it is, what's that feature there?" she said. "We really can't answer that yet."
At Northern Arizona University in Flagstaff, scientists have been growing ice in a NASA-funded lab using materials that make up Pluto's surface. They'll use new information from New Horizons to fill in any gaps in knowledge.
Lance Diskan, a co-founder of the Flagstaff Dark Skies Coalition, said he has documented other NASA missions from Maryland and considers the Pluto flyby "the most spectacular thing in my lifetime," beside the birth of his children.
"That moment of discovery, the ignorance of millennium, suddenly it turns into knowledge," he said. "I only wish future generations have that joy from discoveries like this."