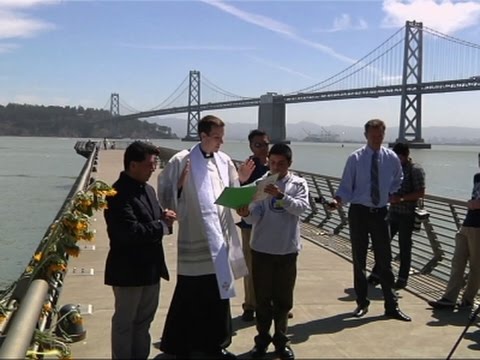 View 4 Items
Associated Press

WASHINGTON — Lawmakers criticized federal officials Tuesday for failing to deport an immigrant with multiple felony convictions and an outstanding drug warrant who allegedly went on to murder a woman in San Francisco.
"He had a criminal warrant but was released into the general society to commit a murder. Does that make any sense to you?" Sen. Ron Johnson, R-Wis., who chairs the Senate's homeland security committee, demanded to know at a hearing. "Because I'll tell you it doesn't make any sense to the American public."
Philip Miller, an official with U.S. Immigration and Customs Enforcement, blamed San Francisco, saying officials there did not honor a federal request, known as a "detainer," to keep Francisco Sanchez in custody.
Sanchez, who is from Mexico and is in the United States illegally, allegedly shot and killed 32-year-old Kathryn Steinle last week as she was sightseeing with her father along a popular local pier in San Francisco.
"In that particular case our detainer was not honored," Miller said. "San Francisco sheriff's department did not honor our detainer."
San Francisco Sheriff Ross Mirkarimi has vigorously defended his office's decision, saying ICE should have issued a court order or arrest warrant, but "They did not do that." Miller declined after the hearing to comment on that assertion.
But California Democratic Sen. Dianne Feinstein, a San Francisco native, weighed in later Tuesday against her local sheriff's actions, suggesting San Francisco officials should cooperate with federal authorities.
"The tragic death of Ms. Steinle could have been avoided if the sheriff's department had notified ICE prior to the release of Mr. Sanchez, which would have allowed ICE to remove him from the country," she wrote.
Steinle's death has offered ammunition to GOP critics of Obama administration policies, including presidential candidate Donald Trump, who's cited it to justify his claims that many immigrants entering the country illegally are criminals.
At the same time it plays into a larger, politically charged immigration debate between federal authorities and local jurisdictions.
Hundreds of jurisdictions have refused to participate in a disputed federal program, Secure Communities, that allows federal authorities to request that local communities detain immigrants in the country illegally who are picked up for suspected criminal activities. San Francisco takes it farther than many, even boasting of itself as a "sanctuary city" that protects immigrants.
President Barack Obama announced last fall he was ending the Secure Communities program and replacing it with a new approach meant to address concerns about immigrants being targeted. Yet questions remain about the new program, called the Priority Enforcement Program, which is supposed to focus on immigrants convicted of crimes, but has yet to be fully implemented, including in San Francisco. That uncertain federal outlook may have contributed to a situation where someone who should have been deported was instead released.
The situation has sparked criticism from Republicans who embraced Secure Communities as an effective law enforcement tool and oppose Obama's attempts to do away with it through executive actions without Congress' consent.
House Judiciary Chairman Bob Goodlatte, R-Va., announced Tuesday he would bring Homeland Security Secretary Jeh Johnson before his committee next week to answer questions on the matter.
Yet it was not clear what steps, if any, Congress might be able to take to prevent a recurrence of such a tragedy given what all agree is a badly broken immigration system that Congress has not had the political will to fix.
"What happened in San Francisco should not be allowed to happen again," said Sen. Tom Carper of Delaware, top Democrat on the Homeland Security and Governmental Affairs Committee. "I'm not sure how we're going to stop it but we're determined to drill down on that and see what can be done."
Associated Press writers Amy Taxin in Los Angeles and Janie Har in San Francisco contributed to this report.