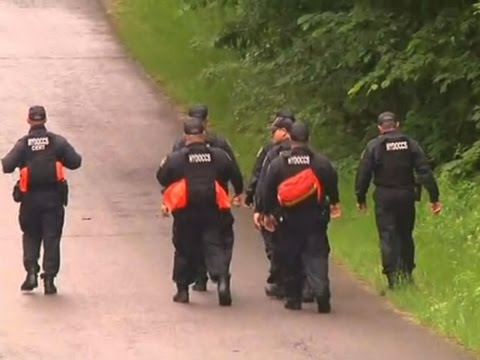 View 17 Items
Associated Press

BELLMONT, N.Y. — Searchers hunting for two escaped killers Wednesday were contending with steep slopes, thick woods, sticky bogs, biting bugs and the possibility that the pair on the lam from prison for 19 days is armed.
Police said they remain almost 100 percent certain that inmates David Sweat and Richard Matt spent time recently at a hunting camp about 20 miles west of Clinton County Correctional Facility near Owls Head. A hunter said he saw a figure bolting from the cabin on Saturday morning. But after days of intense searching with dogs and helicopters, police still had no substantiated sightings of Sweat and Matt.
The 75 square miles searchers focused on is on the northern edge of the sprawling Adirondack Park and includes woods so thick that visibility is only a few feet in some sections, authorities said. The woods also are dotted with hundreds of seasonal and hunting camps.
State Police Maj. Charles Guess told reporters Wednesday that authorities don't have confirmed evidence that a shotgun was stolen from the hunting cabin near Owls Head, but they've always assumed the escapees were armed. Weapons and ammunition are typically stored in camps, but not everyone keeps an inventory of their firearms, he said.
"Just about every cabin or outbuilding in the North Country has one or more shotguns or weapons, and we have since day one operated under the belief that these men are armed," Guess said. "They are extremely dangerous, they're cunning. Why wouldn't they try to arm themselves immediately upon escape?"
Guess said it was possible the pair left the area, but promised that the more than 1,000 officers involved would keep up the relentless search until the killers are captured.
"We don't want them to have a restful, peaceful night putting their head on any pillow," he said.
Sweat, 35, was serving a life sentence without parole for killing a sheriff's deputy. Matt, 48, was doing 25 years to life for the 1997 kidnapping, torture and hacksaw dismemberment of his former boss.
They escaped from the prison in Dannemora on June 6. Authorities say the pair cut through the steel wall at the back of their cell, crawled down a catwalk, broke through a brick wall, cut their way into and out of a steam pipe, and then sliced through the chain and lock on a manhole cover outside the prison.
Joyce Mitchell, the woman accused of helping the inmates escape, remained in custody on charges she helped the two men escape by providing them hacksaw blades, chisels and other tools. She has pleaded not guilty.
Clinton County District Attorney Andrew Wylie told reporters that Joyce Mitchell told investigators she smuggled hacksaw blades, a screwdriver and other tools into the prison by placing them in frozen hamburger meat. He said she then placed it in a refrigerator in the tailor shop where she worked, and a corrections officer brought the meat to Sweat and Matt, who were housed in a section of the maximum-security prison where inmates are allowed to cook their own meals.
The DA said the guard didn't know the tools were inside the meat. The guard has been placed on paid leave.
Associated Press writer Michael Hill contributed from Albany, New York.