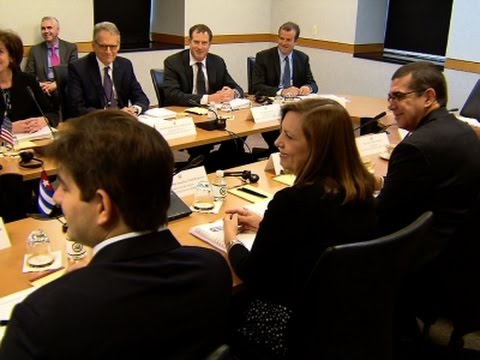 View 5 Items
Associated Press

WASHINGTON — American and Cuban officials are trying to complete talks to re-establish embassies in each other's capitals after a half-century interruption.
The top U.S. diplomat for Latin America, Roberta Jacobson, is meeting with her Cuban counterpart, Josefina Vidal, at the State Department on Thursday.
The talks come as two of the biggest obstacles to the restoration of U.S.-Cuban diplomatic relations are being removed.
Cuba will come off the U.S. state sponsor of terrorism list on May 29. Also, the U.S. says Cuba's Interests Section in Washington has established a relationship with a U.S.-based bank, meaning it won't have to operate on cash anymore.
Other issues remain.
The U.S. is trying to ensure its diplomats can travel throughout Cuba and meet with dissidents without restrictions.
Officials say a breakthrough is unlikely Thursday.